8 February 2007 Edition
National demo to highlight crisis for rural post offices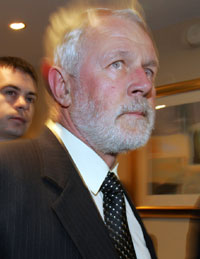 Sinn Féin spokesperson on Rural Development, Martin Ferris TD, has voiced his support for the Irish Postmasters' Union which is planning a national demonstration to highlight the decline of post offices around the state.
The Kerry North TD said:
"This is a major issue in rural Ireland, in particular where hundreds of local post offices have closed over the past number of years. Not only does this deprive local communities of an essential service but it also exacerbates problems of isolation and the general decline of rural areas.
"For many people it is one of the places that acts as a meeting and contact point for neighbours they might rarely see otherwise.
"Sinn Féin's position is that all citizens of the state are entitled to the same level of provision from public services. If the state presides over the destruction of rural post offices alongside the downgrading of transport and the closure of schools and Garda stations then it is failing in its obligation to ensure that this is the case.
" A crisis point has been reached and it is the duty of the government to ensure that something is done to address the situation as a matter of urgency."