8 February 2007 Edition
Campaign launched for North and East Antrim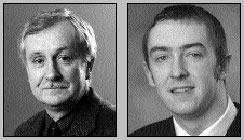 Sinn Féin launched their Assembly election campaign for North and East Antrim in Waterfoot in the Glens of Antrim on Sunday, 4 February, with a meeting chaired by outgoing North Antrim MLA Philip McGuigan.
The party have chosen Glens Councillor Oliver McMullan as their candidate to stand in East Antrim.
Ballymoney Councillor Daithí McKay has been selected by the party to contest North Antrim.
Daithí said:
"Four years ago, we were a party with only three councillors and no Assembly members; today, we have more than doubled the number of councillors we have, we have our first ever councillor in Ballymena, we are the second biggest party in Ballymoney, and the largest party in Moyle.
"In 2003, we elected our first MLA in Philip McGuigan, who then went on to secure over 7,000 votes at the Westminster election.
"Comparisions between the Westminster results of 2001 and the last election in 2005 show that Sinn Féin's vote has risen by 49 per cent. That is truly a seismic shift in politics in this area.
"So no one should be under any doubt that Sinn Féin is a party on the rise in North Antrim. This is a trend that looks set to continue, not only here but throughout the entire island."
Sinn Féin delivering positive change
Daithí McKay continued:
"This party has a proven track record in delivering change. It was Sinn Féin who led the way in campaigning for an Irish Language Act and a Bill of Rights, work on which has now begun. We have also led the way in securing Irish passport services in the North.
"In education we ended the publication of Schools Performance League Tables and abolished the 11-Plus. We also established Comhairle na Gaelscoilíochta and Iontaobhas na Gaelscoilíochta to put Irish-medium education on a secure footing.
"We continue to campaign for Northern representation in the Oireachtas and for Presidential voting rights.
"The announcement by the Irish Government that they are to set up a committee with Northern MPs on it falls far short, although we welcome it as a step forward. Our campaign on these issues will not end until the Northern public are granted  their rights and entitlements as Irish citizens.
"Through negotiations we have secured maximum change on the key issue of policing. Further movement forward on this issue will obviously depend on the restoration of power-sharing and the devolution of policing and justice powers away from the British Government.
"It is vitally important that the police officers who are involved in harassment and intimidation, especially here in the Glens, are taken to task and made accountable for their actions.
"Any move this party makes in regard to policing is made on the premise that it will help secure maximum change.
"Sinn Féin has been, and continues to be, to the forefront of this change. While other parties pussy-foot around issues, whether its sectarianism or policing, it's quite clear that Sinn Féin can and do deliver."
Manifesto for the Glens
Sinn Féin also launched its Manifesto for the Glens, drawn up after consultation with members of the local community over the past month.
Some of the proposals outlined include introducing rates and tax relief for indigenous tourist businesses in the Glens  (something already in place in the 26 Counties).
It also pledges to abolish the Planning Law PPS14 and is committed to 'Freedom to Farm' (i.e. the removal of excessive paperwork and regulation for farmers).
Councillor McKay said that the key to resolving many of the problems in the Glens was social and affordable housing.
"This community is being torn apart because of a combination of factors which include second-home syndrome, heavy planning restrictions and the rocketing prices of houses.
"Young people born and raised in this community simply cannot afford to stay here and it is not only resulting in families moving out to areas like Ballycastle and Glenravel but in the future of schools and rural services being threatened.
"This needs to be tackled now and it won't be addressed by British direct rule ministers whose priorities lie elsewhere."