8 February 2007 Edition
Call for prompt Dáil debate on collusion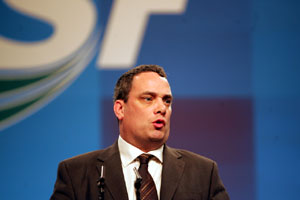 Speaking on Wednesday, 7 February, ahead of the expected conclusion next week of the McEntee investigation into the Dublin/Monaghan bombings of 1974, Sinn Féin Justice spokesperson Aengus Ó Snodaigh TD called for a prompt, full and open debate in the Dáil on the issue of collusion.
"The government have made a commitment to have a Dáil debate on collusion following the publication of the McEntee investigation. This debate must be a prompt, full and open debate on the whole issue of collusion and not restricted to Dublin/Monaghan alone.
"I am calling for the debate to be scheduled without any undue delay. The debate should happen as soon as the relatives and political parties have had sufficient time to study the report and absorb its contents.
"I will raise this at next week's meeting of party whips and I will be recommending that the debate is scheduled for the following week."
The Dublin South Central TD added:
"In the event of a request from Mr McEntee for an extension of time before he reports, I will be calling for a debate in the house based on the reports already before us: the Report of the Independent International Panel on Collusion in Sectarian Killings and Police Ombudsman Nuala O'Loan's report.
"And once Mr McEntee does report I will immediately call for the suspension of Dáil business to allow for a focused debate on his report.
"It is essential that this Dáil has a full and open debate on the issue of collusion before the house rises for elections in the summer."