11 January 2007 Edition
Interview: Larry O'Toole, SF general election candidate, Dublin North East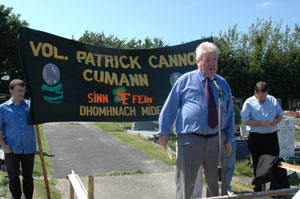 A strong fighter for the rights of people
This week An Phoblacht begins a series of interviews with candidates hoping to represent Sinn Féin in Leinster House following the 26 County general election later this year.
Dublin City Councillor Larry O'Toole, Sinn Féin's candidate for the constituency of Dublin North East is a well known fighter for the rights of people including workers, the marginalised, travellers and those affected by British occupation in the Six Counties.
Originally from West Wicklow Larry's family moved to Dublin when he was young. In 1980/'81 he became involved with the H-Block Committee in Coolock and has been involved with Sinn Féin in Dublin North east ever since. He was elected to Dublin City Council in 1999. In the local elections of 2004 he was re-elected with a huge surplus.
Here, Larry O'Toole talks to ELLA O'DWYER about his work as a councillor, his role in defeating Section 31 censorship, being shot by a drug dealer and the pressing issues facing his constituents in Dublin North East
During a strike at a bakery in Finglas in 1990 you came to prominence with your battle against RTE. Tell me about that.
Right. Well I was interviewed on a radio programme in my capacity as a shop steward during the strike, but because of Section 31 of the Broadcasting Act, I was banned from the airwaves because I was a member of Sinn Féin! It seems strange even now, but that was the situation up until 1995, I think when the Section was revoked. I challenged this censorship and after a long and often difficult legal struggle I won my case. RTE even challenged the judges ruling that overturned the legislation. I don't know of any other broadcasting organisation in the world that took a legal action to have themselves censored! I think it was the beginning of the end of political censorship in this country, although that mindset is still in place in RTE when it comes to Sinn Féin spokespeople.
You have campaigned strongly on issues such as housing, healthcare, anti-social behaviour and workers' rights, but the drugs issue is one that has been central to your work and it has even intruded on your personal life.
One of the main challenges for me has been to address the scourge of drugs. I have seen at close hand the cost in terms of young lives destroyed and families plunged into despair. Unfortunately the problem has got worse in this city. I have always advocated speaking out against the dealers. I am not alone in that. Many of my colleagues have been to the forefront in challenging them. It can be dangerous. It is such an industry now and it is feeding into the increasing gun crime we see almost on a daily basis.
For my own and my family's part, we were attending my granddaughter's First Communion in 1998. An armed drug dealer entered the church and shot my son and myself. It was a traumatic experience, not only for my family, but also for everyone there. It was to be a joyous occasion, and it was plunged into horror. Our injuries were serious but not life threatening. I will never forget the support I got after from all sections of the community. People are wonderful at a time like that. My granddaughter is 16 now and we talk about it from time to time. It was a bit weird when we went back to the church for my grandson's Confirmation.
What approaches would you advocate in tackling the drugs problem?
I agree with the three strand approach that addresses supply and control; treatment and rehabilitation; and awareness raising through education. They really need to put a lot more in.
In the '80s there was heroin, now 20 years on there's cocaine. The need for education, detection and treatment is even greater and the government needs to make adequate resources available to meet that need. I've been to an awful lot of funerals of young people who died from drugs. I visited the homes of three families recently who lost young sons in that way.
Your community work as a Sinn Féin councillor has also made you aware of anti-social behaviour. How would you assess its impact?
Often the elderly population are living in fear. Nobody should have to live in fear, living into their middle years, going on to be a senior citizen and living in fear in their own home. We need more Guards on the street, not deskbound doing routine admin work. That's why we in Sinn Féin oppose the reserve force. It's a 'yellow pack' approach. People need and deserve a professional, properly trained police force that adapts to and reflects the needs of communities. The money being spent on this reserve force would be better spent on that. I admire the community Guard going around on his or her bike and engaging on a positive level with young people in order to steer them away from anti-social behaviour. We desperately need more investment in sports and leisure facilities in deprived areas so as to encourage young people to pursue useful activities instead of making life a misery for so many.
Housing is another area in which you have been very vocal.
Yes, I believe this Government has no real vision for housing people. The prices of houses have gone up and up and up. The developers have become a new class in Ireland. We now have hundreds of them worth hundreds of millions, if not billions. That money has come from the pockets of hard pressed people who just want a home to raise their families in. Even so called affordable housing is out of the range for a lot of people. There are few local authority homes being built anymore. We need to promote housing as a right, not an unaffordable luxury. It is causing huge strains in society and we will see a lowering in our quality of life because of it. The Social and Affordable Housing scheme must be the way forward; otherwise I don't know where we'll end up.
On a more personal note, what's your daily life like?
I go to a lot of football matches in Dalymount or Tolka Park and of course to hurling and football matches in Parnell Park, read or listen to folk music from around the world. I love traditional Irish music, but it also opened a window for me into music from further afield. The folk music of the world is really intertwined and interconnected. I also read a bit and enjoy a good play, when I get the time to go to one.
Will you have time for all this when, as seems likely, you enter Leinster House at the next General Election?
Probably not! But I think it's important that people take some time out for themselves. You need to re-energise and the best way to do that is to relax and enjoy whatever particular interests you have. In any event, I'll bring the issues that are important to me, into Leinster House. So they may get ready for that!
An Phoblacht Magazine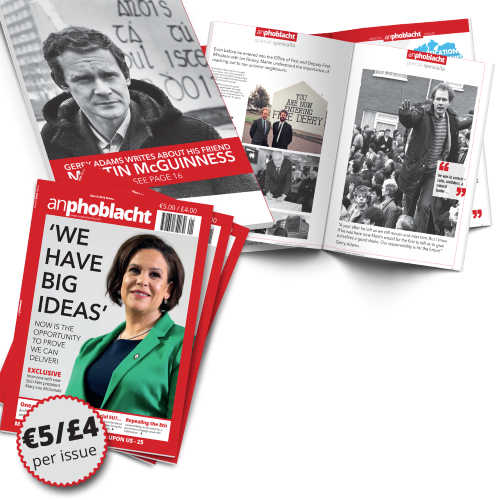 AN PHOBLACHT MAGAZINE:
The first edition of this new magazine will feature a 10 page special on the life and legacy of our leader Martin McGuinness to mark the first anniversary of his untimely passing.
It will include a personal reminiscence by Gerry Adams and contributions from the McGuinness family.
There will also be an exclusive interview with our new Uachtarán Mary Lou McDonald.
test