14 December 2006 Edition
Martin Hurson DVD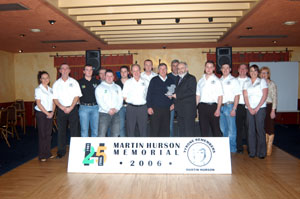 The Life and Times Of Hunger Striker Martin Hurson, a DVD set commemorating the Life of H-Block Hunger Striker Martin Hurson was launched on Friday night 8 December in Galbally, Tyrone by Francie Molloy MLA .
This six disc DVD set covers all of the events of the programme of events held last July in Martin's home area of Galbally.
Also included in this monumental work are two discs of highlights from associated commemorations held in Dungannon and Lanesborough, County Longford where Martin was a H-Block election candidate for the constituency of Longford/Westmeath in 1981 and footage of the National Commemoration held in Casement Park, Belfast on Sunday 13 August.
This disc set is one of the most comprehensive and detailed studies available on any of the 1981 hunger strikers.
It's documentary style and format run's for over nine hours. The majority of its footage is new and unique including personal footage of Martin in happier times.
At the launch of the DVD, another milestone was marked by the people of east Tyrone when the local The Martin Hurson/Fergal O'Hanlon Sinn Féin Cumann  – Galbally/Cappagh made a presentation to Francie Molloy to thank him for his outstanding commitment to the area over many years.
Paul Kelly noted that the Galbally and Cappagh community went through a lot of dark years and Francie was always there giving leadership and support. Francie was presented with a commissioned piece of Tyrone Crystal from Sylvie Kane as a token of appreciation to mark his 40 years in politics.
The Life and Times Of Hunger Striker Martin Hurson will be available in the Arts Shop and Culturlann on the Fall Road Belfast also in Monaghan and Cavan and from local Sinn Féin Cumainn in Tyrone and surrounding districts.
Also available on line from www.irish-dvds.com