14 December 2006 Edition
Interview - Larry Kirwan, lead singer with Black 47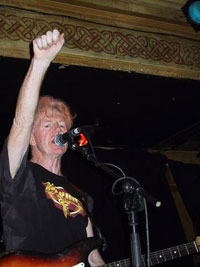 A defiant and progressive voice of Irish America
Irish-American band Black 47 were in Ireland recently for a short tour covering Dublin, Galway and Wexford. Lead singer Larry Kirwan took time out to speak to MICHAEL DIXON about the band, his own writing and politics and plans for the future.
Black 47 are a band whose lyrics have a strong political content. Sticking to their principles has cost the band commercially as Larry Kirwan explains: "We got wiped out in England and Europe because of it. When the CDs were released by EMI and by Mercury, they would just do the contractual thing – put them out and then nothing. They didn't ban you, just did nothing.
"So we suffered a lot because of that. We still can't really play Europe because of it. On the other hand we were political so there wasn't a lot we could do about it. If we weren't political we'd just be a bad looking Corrs.  
"When EMI first put out CDs in the US, they flew over three British journalists to see us on St Patrick's Day, and they were just terrified at the gig. Unfortunately the ones they got were three Conservative guys. One of them wrote that we were the musical wing of the IRA.
"I've a book out called Green Suede Shows in which I try to explain what the music business is like, because there's so much lack of knowledge about what goes on in the music business. People see it as this gilded world, but basically it's just another business. It doesn't even run on concepts of  capitalism, if it did it would be good, they just throw huge amounts of money at something and then walk away from it, and then you're left to pick up the pieces."
Asked why Black 47 became so popular amongst the Irish immigrants in the US in the late1980s and early '90s Kirwan says it was because they sang songs about them.
"They didn't like it at first. Irish people tend to have a great sense of humour when it's directed at someone else, but not when it's directed at them. We're very thin-skinned in general and certain of our songs were humourous.
"At first we weren't that popular, but then as they began to see we were telling their stories in songs and showing the problems with being illegal, the appreciated it. Being illegal myself  I could sense it,  could see how young immigrants were dealing with problems. We were singing about them, and we weren't pulling any punches, and they could relate to it."
In his book Green Suede Shoes, it is clear that Kirwan got much of his republicanism from his grandfather. Asked whether that republicanism developed as he grew up, and if the US experience had an impact on his politics he says:
"I wanted to get more into music and away from the politics, because the household I grew up in, though it wasn't in the North, was intensely political. There were pictures of patriots on the walls and the United Irishman was there every Sunday morning. My uncle would pick it up every Saturday night in the pub and we would read it.
"My grandfather had an encyclopaedic knowledge of republicanism. He had been inducted into the IRB by Seán Mac Diarmada whom he revered, but he kept it very much to himself. But he would tell me stories about it.
"Then at the age of 15 or 16 I wanted to get into music. I walked away from it. It broke his heart, in a certain sense. Things were exploding in the North and you had the choice of getting involved with that or not, and at that point I decided to emigrate, go away from it.
"Then I found a strange thing, that when I was away from it totally – I always say that about Irish emigrants -–when you're taken away from the influence of the British media for about five years, you can look back and see exactly what's happened. You see the political situation the way it is. It doesn't make the solutions any better but you can see what the problems are. I got back into it through that, and through thinking about my grandfather's life.
"When you're in a band, you're travelling all the time, you've a huge amount of down time and you can think a lot and I used to go through different aspects of his life and see what made him be what he was.
"He was bitter in certain ways, seeing his side defeated in the Civil War and he had to be quiet about it. He ran a stone cutting business. He had to deal with the clergy. He had been excommunicated for being a republican. He had all this inner anger. He had to deal with people that he might not have particularly liked. He was a strict Catholic himself, but he didn't like the hierarchy. Individual priests he would have liked. Just thinking of all that, I got back into it.
"I began to see that the nationalist people in the North had no voice at that point. Sinn Féin were pariahs at the time, and the way we saw it, you gotta start talking. You gotta get Sinn Féin into the political mix, because that's the only way you could get things sorted out.
"That's what we worked on with Black 47 – going into different areas and trying to raise the political consciousness of the people, not just 'fuck the Brits'. That anger was in Irish America. What we told them was about James Connolly, Michael Collins, the famine, and tried to get them to harness this anger, go after their representatives and make them get Washington to deal with Sinn Féin. To some degree we helped with that."
Kirwan believes that US opinion has always been fairly evenly divided on the Iraq war.
"Even in this [mid-term] election – I don't have the actual figures, but 45 to 47% voted Republican, so the country is still fairly evenly divided.
"The war is screwing up the whole country apart from the fact that 3,000 kids have died over there and another 10,000 to 20,000 have been seriously wounded. It's draining the country of its morals and of its money too. There are so many problems with healthcare and education that no one is dealing with.
"It didn't take that much to swing it [the election] but the war had done other things.
What Bush is trying to do over there – getting rid of haebeus corpus, Guantanamo Bay, to many Americans is horrifying. To see the way the country is looked at by the rest of the world - it's just horrifying.
People of varying political hues come to Black 47 gigs in the States, which has caused problems : "When the war was declared in 2003, that St Patrick's night there were scuffles and fights at the show, because we came out against it so strongly. In the first year, we had a really hard time, because anyone who was against the war was accused of being unpatriotic and a lot of people lay down because they weren't used to it. But we'd been through politics before and our attitude was – "You're wrong, totally wrong and we were able to give a lot of young people cover. They were able to say Black 47 said it's wrong.
Bush and his people were browbeating everyone saying 'if you don't support this war you're unpatriotic'.  But we'd been through that in the North. It doesn't necessarily mean that we agree totally with Sinn Féin but you can see what's right and what's wrong and you can't be afraid of saying that, because somebody says you're the musical wing of the IRA.
"So we had that background, and we were able to stand up against it. We lost a lot of fans. I had a huge amount of threats, and physical threats on the stage. It was hairy for a while. There was one period when I really felt we were being followed by a guy who was at the gigs. He was there all the time. He came back stage one time, walked right by, hit me on the shoulder and said: 'Why the fuck are you Irish guys supporting Zarqawi?'  And then walked out.  I thought this was serious. He wasn't a drunk. Then he just disappeared and he's gone hopefully."
The recent economic boom in Ireland has ended what for many decades was a steady flow of Irish emigrants to the US. Asked whether this change had impacted on the Irish community in the US, Kirwan says that in the 80s and 90s a huge influx of immigrants took over certain areas and revitalised them.
"Now a lot of them have gone back and the areas have been taken over by new immigrants such as Mexicans, South Americans and Russians. New York is always changing."
Kirwan's next book, Rocking the Bronx, is about the experience of four immigrants. Kirwan says he has tried to tell the story as he remember it in the Bronx when it was the social hub for young Irish immigrants.
"Bainbridge and 204th. It was a magical area, because if you were stuck, you went there and you got a job, or with us we got gigs. It's gone now, so I'm going to capture it in the book and tell it like it was.
"It didn't end because of immigration. It ended because South Bronx kind of moved up into North Bronx and became rowdier, a guy and  a couple of people were  stabbed. Over night, it was kind of amazing, because the Irish Americans were a tough breed, and when they got into their areas they stayed there, but the Irish up and left, and within two years the area was gone.
"They'd all moved further north and gone to Yonkers. It's a stunning story for me. No one's even talked about it – this exodus from their own area by the Irish.  So in Rocking the Bronx, I've tried to show what life was like in that area. It was a rough life in ways - heavy drinking, drugs and the pain of emigration for people who didn't want to be in New York.
"I mean, I did want to be there, but I could see a lot of young Irish people who were kind of stuck there and many of them couldn't really go back, because they didn't have the money and you couldn't go back a failure. It was really hard for a lot of them so I tried to show the anger, the bitterness and humour of living that wild life. They had no real roots except to the pubs in the area. They would make a lot of money, and drink it over the weekend, and stay out all night, that was it. You had to borrow the money to get home at Christmas and borrow a suit maybe, and take out a loan and go home and pretend you were doing well, and then get back and be totally broke again and work if off. That was the cycle. There was a lot of tragedy. The Irish ones going out in the last ten years or so tended to go out and be able to come back. A lot of the guys I knew just didn't make it back."
Larry Kirwan has already written one book and as has another in the pipeline. He's writing new songs too and is currently working on one which deals with the assassination of human rights lawyer Rosemary Nelson. He remains unapologetic about the political content of Black 47's material.
"How we do commercially was never a concern. People used to say – 'drop the politics and you'll do a lot better' but I am what I am. I can't drop it. Black 47 is that artistic thing of trying to do it in a certain way and if you get a following which we did, that's cool. Maybe if we hadn't been that way, we'd have had a bigger following, but then we wouldn't be Black 47.
An Phoblacht Magazine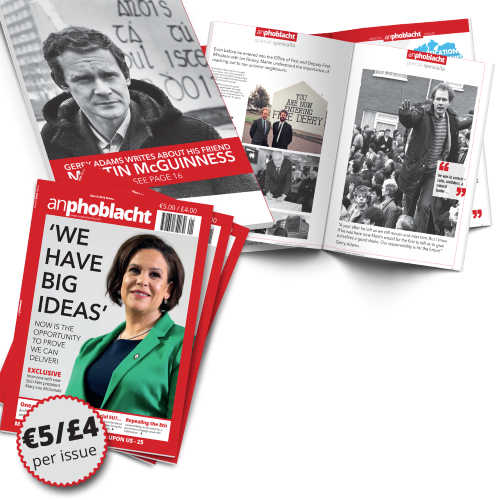 AN PHOBLACHT MAGAZINE:
The first edition of this new magazine will feature a 10 page special on the life and legacy of our leader Martin McGuinness to mark the first anniversary of his untimely passing.
It will include a personal reminiscence by Gerry Adams and contributions from the McGuinness family.
There will also be an exclusive interview with our new Uachtarán Mary Lou McDonald.
test