14 December 2006 Edition
16 Moore Street - 1916 leaders' last refuge to be declared national monument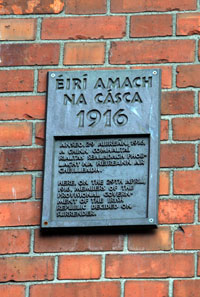 Success in campaign to save historic 1916 building
Sinn Féin has welcomed the decision to designate 16 Moore Street as a national monument, after a long campaign to save the last headquarters of the leaders of the 1916 Rising.
Dublin City Councillor Christy Burke said that a lot of work had been done by the council to have the building listed as a protected structure.
"Immediate work now needs to be done on the building to protect and preserve its deteriorating condition. Number 16 Moore Street is a building of immense historical value. It unwittingly played host to one of the most significant events in Irish history, when the surviving leaders of the Easter Rising held their last council of war before the surrender. It is only fitting and right that this house becomes a national monument. It should be a treasured link with the past and this country's long struggle for independence," said Burke.
The announcement that 16 Moore Street would be declared a National Monument
was made by Taoiseach Bertie Ahern at a commemoration for Liam Mellows in Castletown, County Wexford on 10 December. The move will be part of a broader plan to build a 1916 memorial area, including a 1916 museum in the GPO.
Speaking to An Phoblacht this week, Larry O'Toole, Sinn Féin Dublin City Councillor and general election candidate for Dublin North East, said that he was delighted that the Taoiseach had now recognised the will of the people of Dublin and indeed the people as a whole. He described it as a successful outcome to a campaign that had been going on for over four years. He thanked all of the individuals and groups, such as An Taisce and the National Graves Association, who got involved.  O'Toole said that there was no doubt in his mind that the 90th anniversary of the 1916 rising, and the overwhelming public support for it, had played a major role in Ahern's decision.
O'Toole is now looking forward to the monies being made available to realise the goals outlined by the Taoiseach. This is something he will be keeping a close eye on, O'Toole said.