23 November 2006 Edition
Medie View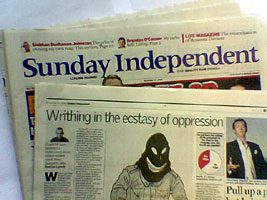 Declan Lynch and 'Middle Ireland Crisis'
By Frank Farrell
It is usually best to ignore the bilious outpourings of the Sunday Independent but the attacks on the Corrib protesters deserve a response, if only to illustrate the politically illiterate content of much of the paper's so-called analysis.
Declan Lynch, for example, is one of the less gifted reactionaries at the Sunday Indo and his grasp of ideology and politics is slender. But like many Sindo writers Deco is anxious to acquire two things: the approval of the latter day Tories that control the paper and the clocking up of great distance from his roots in small town Ireland.
One of the strangest mutations in the Dublin media is that group of middle-aged hacks, reared in the '70s and '80s, who came to believe that their background in mid-Ireland and all that entailed - Fianna Fáil, the GAA, Catholicism and so on - is a terrible embarrassment altogether. Deco is a good example of this syndrome (let's call it Middle Ireland Crisis or MIC for short) and he has always felt it necessary to show that he has grown out of the bog-backward Ireland from whence he came. It's a peculiar form of what used to be known as the national inferiority complex and an especially virulent strain of this disease has spread throughout the Sunday Indo.
Writing for Hot Press, as he did for some years, offered a way out of this deathly provincialism and set Deco apart from the muck savages among whom he grew up. Lynch usually likes to present a jaded but progressive front from past and very distant radical causes -- Vietnam etc. and in his attacks on the Rossport protesters, Deco tries hard to be more than just an ugly reactionary. But he fails. In his thoroughly unpleasant article on the Rossport protesters, MIC from Athlone comes across as someone who has not only lost all sympathy with his roots but who actually hates anything and anybody associated with them.
The bulk of Lynch's attack on the Corrib protesters consists of the highly original lie that Sinn Féin is pulling all the strings in the campaign and that the protest is a form of 'Northern' madness. But the sneering contempt and sarcasm in Lynch's description of the "foreign oppressor looting the natural resources of Ireland and grinding down the poor but defiant Irish people" and so on indicates a contempt and even dislike of his own, 26 Counties background. Lynch's article is bereft of a single, new idea or observation, left wing or right wing, on the Corrib protest but its plain, unvarnished dislike of ordinary people daring to be defiant is enough to ensure its publication in the Sunday Indo. The final insult to all those involved was the dismissal of the protesters as "writhing in the ecstasy of oppression", a phrase inspired by the sort of tired, amateur psychology that passes for political analysis in this awful newspaper.
Another Sunday article by someone called Daniel McConnell referred to "some parents" (unnamed) at Inver National School being upset by principal, Maura Harrington's involvement in the protest and quoted "one parent" (also unnamed) as saying that the school was suffering as a result. "Several parents", again unnamed, are preparing an initiative on this matter and will, apparently, be complaining to the school's board of management.
Yet again, as this column repeatedly points out, the media is a million miles away from the people on the Shell to Sea campaign. With television cameras capturing the violence of Gardaí bludgeoning protesters off the roadway, journalists and editors continue to peddle blatant lies about who is responsible for the violence at Bellanaboy. Do these editors and journalists think people are blind as well as stupid?
It's not just Fine Gael that is resorting to law and order tactics to boost their declining fortunes; large sections of the media are unable to resist the temptation also. As MediaView goes to print, todays Irish Independent front page carries four articles, all of them about crime, law and order and the following eight pages of home news in the same edition has 20 or so stories on crime out of a total of 40 odd. Even the editorial is a law 'n order rant extolling the suggestion that home-owners should be legally empowered to kill intruders, bemoaning only the bureaucratic demand that one should consider the legal responsibilities before pulling the trigger on punks.
Whole sections of the media now present an exaggerated, cops-n-robbers caricature of crime to the public, fuelling fears amongst the elderly and other vulnerable people. However, it would be too easy to blame the media for Fine Gael's idiotic suggestions about putting guns in churches and offenders into boot camps.
An Phoblacht Magazine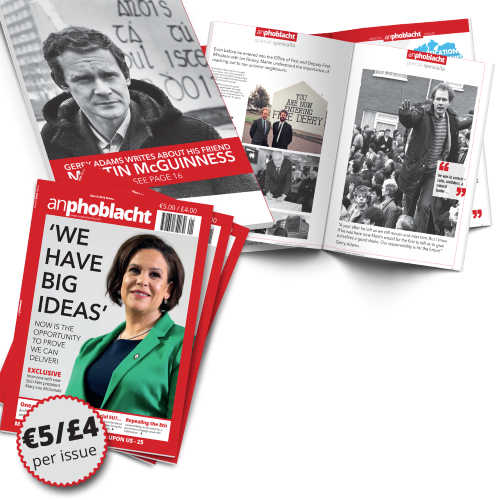 AN PHOBLACHT MAGAZINE:
The first edition of this new magazine will feature a 10 page special on the life and legacy of our leader Martin McGuinness to mark the first anniversary of his untimely passing.
It will include a personal reminiscence by Gerry Adams and contributions from the McGuinness family.
There will also be an exclusive interview with our new Uachtarán Mary Lou McDonald.
test