23 November 2006 Edition
Return of popular republican magazine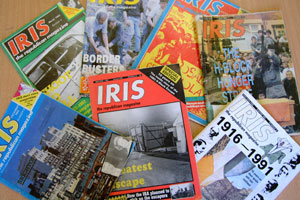 Next week sees the welcome return of the republican magazine Iris. The magazine, once highly popular among republicans in Ireland and abroad, has not been published since 1993.
Within republican circles in recent times there has been a recognition of the need for a regular publication to facilitate extended discussion and explanation both of Sinn Féin policy and the republican view of wider contemporary events.
Using the extra space that a magazine provides, Iris aims to complement the weekly news coverage and comment of An Phoblacht and to provide a more in-depth analysis than is possible in a weekly newspaper.
Iris is a title with a distinguished history and was originally the name of a republican weekly commentary which appeared from 1973 to 1980. The Irish word for journal, Iris also spelt the initials of the Irish Republican Information Service which brought out the original publication.
Iris was subsequently the title used for what sought to be a quarterly publication launched in April 1981 by Sinn Féin's Foreign Affairs Bureau. Aimed mainly at a foreign readership, considerable difficulties were faced in getting the magazine published on a regular basis. The second issue came out in November 1981, delayed by the momentous events of the Hunger Strike of that year.
Iris was re-organised under a new editorial board in 1982 and the magazine was developed on a wider basis to include historical, analytical and discussion features, cultural articles and political notes. A high quality and well produced magazine, Iris was published at regular intervals and proved extremely popular among supporters of the republican struggle throughout Ireland and abroad. It was a highly important educational tool for republican activists as the struggle developed and evolved throughout the 1980s and 1990s. The last edition was published in 1993.
Relaunched now by Republican Publications, Iris will be published on a quarterly basis. Editor Seán Mac Brádaigh says the aim is to bring readers the best of what the original Iris did well -- thought provoking articles and analysis around topical political issues coupled with features of historical and cultural interest. "Above all Iris aims to promote the concept of ongoing education and strategic thinking among republican activists and supporters", he said.
"In this historic anniversary year, we thought it fitting to mark the return of Iris with a special edition dedicated to the memory of the sacrifice of the Hunger Strikers of 1981. We hope readers find the contributions both informative and inspiring", said Mac Brádaigh.