23 November 2006 Edition
Health: Fianna Fáil TDS react hysterically to campaign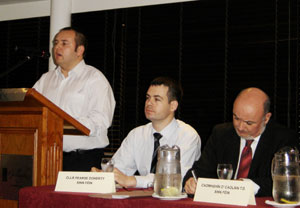 Successful Donegal engagement on healthcare proposals
Sinn Féin Dáil leader and Health spokesperson Caoimhghín Ó Caoláin TD was in County Donegal on Monday 13 November to meet local people involved in the healthcare sector, including Donegal Action for Cancer Care and the Irish Nurses Organisation (INO). During his visit to Donegal, Ó Caoláin addressed a public meeting in Letterkenny on 'Health in an Ireland of Equals'. He was joined on the platform by John Quinn and Noelle Duddy of Donegal Action for Cancer Care, IMPACT National Secretary Kevin Callanan and INO Regional Spokesperson Noel Treanor. The meeting was chaired by Councillor Pearse Doherty (Donegal South West) and was also addressed by Councillor Pádraig Mac Lochlainn (Donegal North East).
The day after the highly successful meeting which received significant local media coverage, Fianna Fáil's five Donegal TD's -- Mary Coughlan, Pat the Cope Gallagher, Dr Jim McDaid, Cecilia Keaveney and Niall Blaney issued a lengthy joint statement, dated 14 November, claiming that Sinn Féin had 'no practical proposals for the health services in Donegal'. The statement was very defensive of the record of the current coalition government which has presided over the health crisis.
In response to this unprecedented development Sinn Féin's Donegal North-East representative, Councillor Padraig Mac Lochlainn said that attacking Sinn Féin was the only thing that united Fianna Fáil TDs in Donegal
"We in Sinn Féin were delighted that, last Monday, our campaign for better health services -- based on equal access for all -- resulted in the latest in a series of constructive private and public engagements with independent campaigners like Donegal Action for Cancer Care, healthcare workers in the Irish Nurses Organisation, trade unionists like IMPACT and patients' families from across County Donegal.
"We were also flattered that our campaign for better health services -- based on equal access for all -- is having such an impact that the five Fianna Fáil TDs felt it necessary to join forces to defend the record of the Fianna Fáil/Progressive Democrats Government", Mac Lochlainn said.
"Given their appalling record on health, despite the unprecedented resources at the disposal of this Government for the past decade, it is no surprise that the Fianna Fáil TDs choose to unite only in misrepresenting Sinn Féin policy.
"Our policy 'Healthcare in an Ireland of Equals' is founded on the principle that the best health services should be available to all equally, based on need alone.
"That policy was developed from the experience of health service users and workers throughout the country. In presenting our policy proposals around Ireland during 2006 we have met with a widespread positive response, including here in Donegal. Anyone who wishes to see what our policy actually says can request a copy by phoning me on 087 2771958, or by visiting our website on www.sfhealthpolicy.com", he said