9 November 2006 Edition
Time to take risks
Sinn Féin's objectives in the current political negotiations are the advancement of the peace process and the full implementation of the Good Friday Agreement. This requires Ian Paisley's DUP to share power jointly with Irish republicans in a Six County Executive and to participate fully in an All-Ireland Ministerial Council. The achievement of these objectives would mark a truly historic development.
It was within this strategic framework that a most important meeting of the Sinn Féin Ard Chomhairle took place last Monday, 6 November. The Ard Chomhairle was given a detailed report on the extensive consultation process which took place within the party over the previous two weeks.
This comprehensive internal dialogue involved over 60 meetings and over a thousand party members throughout Ireland. Following a thorough discussion the Ard Chomhairle agreed that the process set out at St. Andrews did have the potential to deliver the full implementation of the Good Friday Agreement and to bring about the restoration of the power-sharing and all-Ireland political institutions. It also mandated the party leadership to continue with the ongoing negotiations to resolve the outstanding, core political issues.
Policing was also discussed by the Ard Chomhairle. The resolution of this issue is a matter for both governments and all parties. What is required is agreement on a timeframe for the transfer of justice and policing powers from London to locally accountable political structures and on a policing and justice departmental model.
Repressive, sectarian policing as witnessed in the Six Counties for decades must be ended. There is no legitimate role in this country for the British secret services - not in policing or anywhere else.
Sinn Féin continues to work for democratically accountable civic policing. In the event of these matters being resolved the Ard Chomhairle will be asked by Gerry Adams to convene a special Ard Fheis to decide on the issue.
The urgent work of preparing for government in the Six Counties in the run up to the nomination of the First and Deputy First Minister on 24 November needs to begin now. Sinn Féin this week urged both governments to convene a meeting of the Programme for Government Committee.
The republican project of achieving a United Ireland of equals is an ambitious one. It requires the taking of political risks. As Gerry Adams said this week, now is such a time.
An Phoblacht Magazine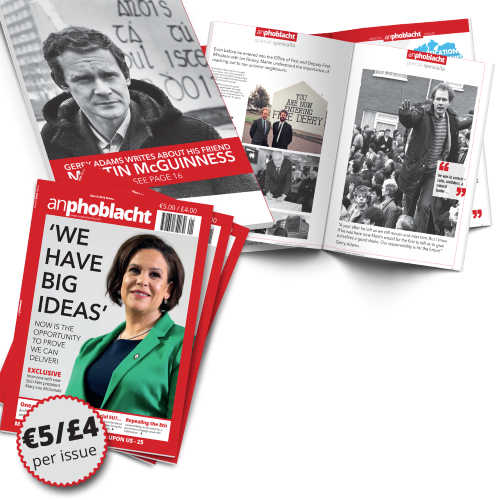 AN PHOBLACHT MAGAZINE:
The first edition of this new magazine will feature a 10 page special on the life and legacy of our leader Martin McGuinness to mark the first anniversary of his untimely passing.
It will include a personal reminiscence by Gerry Adams and contributions from the McGuinness family.
There will also be an exclusive interview with our new Uachtarán Mary Lou McDonald.
test