2 November 2006 Edition
International unions merge
BY Justin Moran
International unions merge
On Wednesday, a new global trade union movement was born with the merger of the International Confederation of Free Trade Unions (ICFTU) and the World Confederation of Labour (WCL). The International Trade Union Confederation will have a combined membership of over 175 million, spread over almost 400 individual trade unions and five continents.
The two existing confederations are primarily based in Africa, Asia and the Americas, with the WCL being an especially keen organiser in developing countries. The European Trade Union Congress, to which most Irish and British unions are affiliated, maintains a close relationship with the two confederations and is likely to monitor with interest the work of the new union structure.
"Trade union unity at international level is now essential to ensuring more effective representation of the rights and interests of workers in the global economy," said Guy Ryder, the General Secretary of the ICFTU.
An Phoblacht Magazine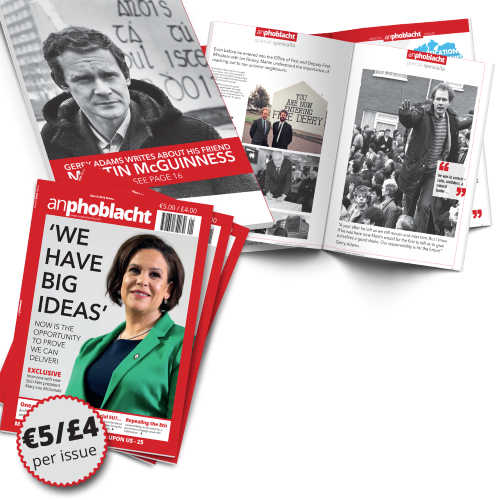 AN PHOBLACHT MAGAZINE:
The first edition of this new magazine will feature a 10 page special on the life and legacy of our leader Martin McGuinness to mark the first anniversary of his untimely passing.
It will include a personal reminiscence by Gerry Adams and contributions from the McGuinness family.
There will also be an exclusive interview with our new Uachtarán Mary Lou McDonald.
test