2 November 2006 Edition
The Matt Treacy Column
Running for the Republic!
Last week I meant to wish readers who had entered the Dublin City Marathon the best of luck. Too late now but I hope that it went well for you all. I had intended to do it again myself this year but the old knees are no longer up to it. It's all that time spent on the prie dieu you know. Repenting for past sins and praying for a few more occasions of sin to present themselves.
I ran in the 1999 Marathon and the memory of the excruciating pain of the last five or six miles endures. I was actually grand until we reached Kilmainham and I began to estimate how long was left. The only part of the course I was certain about was that it finished along the Quays so a quick mental calculation as we approached the jail was that there was maybe three and a half or four miles left.
Happy days I thought as I bounded along. Then we turned left and were heading for Chapelizod! This was not good but I told myself to keep thinking calm thoughts. That lasted until the next distance marker which informed me that there was in fact seven miles left.
Suddenly my legs felt like bags of molten lead, a situation that was not helped by the sight of people dropping out at regular intervals. The temptation to join them for a rest was strong but you knew that if you stopped you would not start again. Speed dramatically reduced from 7mph to probably nearly twice that but once you managed to put one foot in front of another it was progress.
Reaching the streets where there was once again sizeable crowds was encouraging as any lingering self respect cried out against giving up in front of an audience. Then Abbey Street and O'Connell Street reawoke the ego as the line loomed and you did your best to finish with a flourish.
There is an old adage that says that 'The best thing about banging your head against the wall is when you stop.' It must surely have been coined by a long distance runner. It was pure ecstasy just to come to a standstill in the loving embrace of a sheet of tin foil. My brother Gerard was there and we had planned to go for a few pints but I would not have done them justice. Instead I bought six bottles of a well known sports drink and headed home. I lay on my back on the floor and didn't move until the early hours of the morning.
It was a great feeling all the same and reward at last for all the long hours spent running in Portlaoise. I used to run in the Skipper's group and the Skipper counted off the laps - fourteen to a mile - with a complicated Beckettian system involving a handkerchief. Once in a while there were dark mutterings that the Skipper had miscounted but it was a brave man who said it to his face!
There were several groups running at different pace and all was harmony until the arrival of a diminutive female fitness instructor. Oddballs like myself didn't attend her classes but we used to hear second hand of her advice on diet and what not. Diet to us meant eating as much of whatever you could get your hands on and some of us were not adverse to a small aperitif of the house potato and orange wine at the weekends. Chateau Portlaoise. Only for the most discerning palate.
The instructor earned the name 'Stella Rimington' from some chaps who believed that she was part of a black operation to undermine the morale of the unit. Another chap christened her the Infant Phenomenon on account of her versatility and in tribute to one of the characters in Dickens' Nicholas Nickleby.
She did indeed come close to causing a split when she advised her acolytes that we should change direction every half mile as running all the time in the same, anti-clockwise, direction was bad for the joints. I could see the sense in this but for reasons of pure cussedness I sided with the minority who were going to stay running the traditional route. As had Skin the Goat and the Civil War prisoners. Okay, I made the last part up.
So serious was this that the unit had a meeting at which the majority voted in favour of the new way. Had Skin the Goat held a referendum before he polished up his knives to see to the lads above in the Phoenix Park? He had not. We were not for turning, as the popular phrase of the time had it.
The first test of this came on the next morning. As far as I can recall a group that included Don McEvoy from Newry were the first to turn and this of course inevitably meant that our group were running into them. That would have been bad enough for purely road safety reasons had it not been exacerbated by the fact that our group contained Jimmy Flood who had had a falling out with Don about something else.
Words were exchanged on the first circuit and then a couple of fists were traded in passing but nothing serious and Don and Jimmy later mended fences. We, however, persisted in destroying our ankles and knees in memory of the men who had done so before us.
In truth the Skipper was the only really staunch one among us and when he was released, to a glittering career as a veteran long distance runner in the Kingdom, the rest of us gave up. I know. I am a dreadful and cowardly backslider.
Finally for those of you, including myself, who are planning to go to Croke Park on Sunday, you might wish to bear in mind the fact that you are being requested to boycott the event because of Coke's sponsorship. The Sheena Campbell Cumann in DCU are asking that people do not attend due to Coca Cola's history in Colombia.
An Phoblacht Magazine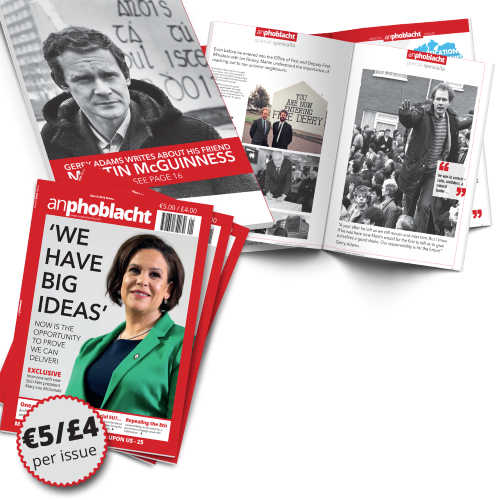 AN PHOBLACHT MAGAZINE:
The first edition of this new magazine will feature a 10 page special on the life and legacy of our leader Martin McGuinness to mark the first anniversary of his untimely passing.
It will include a personal reminiscence by Gerry Adams and contributions from the McGuinness family.
There will also be an exclusive interview with our new Uachtarán Mary Lou McDonald.
test