28 September 2006 Edition
Clondalkin the victim of planning decisions investigated by Tribunal
BY Joanne Spain
Liffey Valley shopping centre's glossy shops, numerous restaurants, cinemas and surrounding car dealerships scream 'spend, spend, spend'. It easily lends itself to the Celtic Tiger vision that all is well in Ireland and money is aplenty.
Just yards away sits Quarryvale, a working class estate that suffers from major neglect and deprivation despite the best efforts of community representatives. Up the road is Neilstown, another Clondalkin area that the Celtic tiger seems to have leaped over.
Both areas featured in the main news from the planning tribunal last week where it is claimed that a tax incentive scheme for a rival shopping centre in Blanchardstown was blocked to benefit Liffey Valley developer Owen O'Callaghan's plans.
Bertie Ahern was Minister for Finance at the time but vigorously denies allegations that O'Callaghan had given him IR£30,000 the year before or that he was involved in anything out of the ordinary in relation to tax designation.
At the heart of this scandal is the way in which locals in the surrounding working class Clondalkin estates were treated. Residents in Neilstown had long campaigned for a town centre complete with shops, social and community centres, and entertainment facilities. But the development of Liffey Valley saw that this was not brought to fruition. The disdain with which locals were treated by those involved in the shopping centre can be seen in the way in which they refused to allow a pedestrian crossing from Quarryvale estate to the retail outlets. The reason given for people having to dodge the unending flow of traffic to and from the centre was that the developers wanted an uninterrupted access route.
Large sums of money were given by Owen O'Callaghan and his lobbyist Frank Dunlop to councillors to ensure Liffey Valley could get underway and a PR scheme in the form of a football stadium for Neilstown was initiated. The stadium, of course, never materialised. Ironically, the corruption and bribery that manifested itself in South Dublin County Council at the time, did not serve as a lesson to that body. Just last month Sinn Féin in the area had to reveal that councillors had accepted Ryder Cup tickets from developer Seamus Ross of the shady Menolly Homes company.
Clondalkin and Lucan are the victims of at best, bad planning and at worst, corrupt decisions. The legacy is apparent with an appalling lack of infrastructure in the form of roads and transport, schools, health centres and leisure and community amenities.
Opposition parties cannot seize on this latest report without stinking of hypocrisy. They too stood in power and failed to deliver for the area and many of their own councillors were involved in bribery scandals that have blighted the capital and left it scarred by poor development.
While the establishment parties played at politics with their developer friends, Clondalkin's residents watched as their area became a symbol of everything that is wrong with the 'Celtic Tiger'.
An Phoblacht Magazine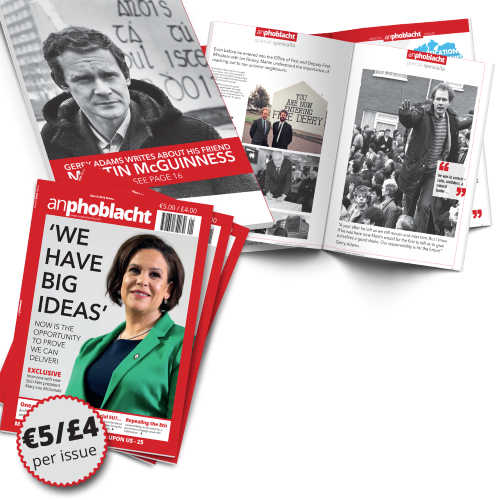 AN PHOBLACHT MAGAZINE:
The first edition of this new magazine will feature a 10 page special on the life and legacy of our leader Martin McGuinness to mark the first anniversary of his untimely passing.
It will include a personal reminiscence by Gerry Adams and contributions from the McGuinness family.
There will also be an exclusive interview with our new Uachtarán Mary Lou McDonald.
test