28 September 2006 Edition
The Matt Treacy Column
Putting for Ireland
A hushed gallery waits expectantly. A soft breeze whispers through the trees. Silence. A difficult tee shot. The ball lofts off the wet grass but on a low trajectory. Bouncing on the edge of the green it rolls towards the pin and nestles against the butt of the flag pole. A hole in one! For Ciara. At the Castle View Par 3, Lady's Island.
Anyway that was my golfing experience for the weekend apart from sporadic checks on the score in the Ryder Cup and listening to the hilarious commentary by Des Cahill and others on the final holes as they attempted to inject some sense of excitement into the affair by whispering the way you would if you were trying not to wake the child or were up to some class of hooky business.
Other than that I did happen to be in a certain hostelry during the opening ceremony when, much to the bewilderment of a number of reverential European visitors, several Dub voices greeted the playing of God Save the Queen with a chorus of "turn that f..ing thing off". Oh Lord, when will we become a mature post-nationalist society?
Indeed the whole Ryder Cup business raised a number of issues regarding our identity as a people and attitudes to sport. Some hate golf because they claim that it is "middle class" or because it takes up leisure and TV time that could be better spent at workshops on ageism or documentaries on the fisherpeople of Tierra Del Fuego. Also it is one of those sports where most men can hit the ball further than most women - except for a pre-woman like Ciara of course - so that is another black mark against it.
I am conflicted about golf. I like playing Par 3 (sounds better than pitch and putt!) and one of the few non-GAA sportspersons I admire is Tiger Woods. Not least because of the fact that for a few years he earned me the most money I have ever won betting. Himself and Moscow Flyer.
For a chap like myself who regularly launches frenzied attacks on trees, flag poles and passing sheep in frustration at missing one foot putts - much to the amusement of my child - I deeply appreciate the grace under pressure displayed by Tiger. Which is why we admire most sportspeople I suppose, because they can do things that we can only dream of and take disappointment in their stride without frothing at the mouth or involving the Guards.
The conflicted part of my attitude to golf has to do with the crude snobbery that surrounds much of it. Indeed Tiger Woods himself has spoken about the racial snobbery that was directed at him when he was making his way through the amateur rankings.
In this country that snobbery used to be, and to some extent still is, a subtle exclusion of the "wrong sort of people", including women, in the actual clubs. But most people who play golf now simply pay for the use of the course and neither have, nor wish to have, anything to do with the clubs that own some of them.
But even old style snobs can only watch agape at the phantasmagoria that is centred on the K Club, a glimpse of which the peasantry were permitted over the course of the Ryder Cup. While much was made of how great it was that "we" were hosting the event, in truth it was more of a celebration of the chancers who own the place and use it to relax on their rare visits from their tax havens and to make sure that a significant part of our national income is still winging its way into their 'rent' accounts.
Former Fianna Fáil Minister Kevin Boland once described the Irish ruling class as comprised to a large extent of chaps whose idea of patriotism was to breed the winner of the English Derby. Or, he might have added, hosting the Ryder Cup. It sure as hell does not consist of paying tax.
The K Club is owned by yet another Irishman, Michael Smurfit, who revels in the fact that the English Queen knighted him - for what reason I cannot recall - and another, Gerry Gannon, who owns a vast amount of land around Dublin which he has remarkable luck in having rezoned so that he can build houses and apartments on. Other K Club regulars include Dermot Desmond, J.P McManus, and assorted property developers.
What they have in common is that they have made their money not from making things, or rather employing other people to make things so they can sell them, in your classical capitalist sense, but from speculation. They have more in common actually with the old Ascendency landlords whose houses they now own, rather than the old time capitalist. Where once our forefathers had to pay rent for the right to farm a few miserable acres now these people have us where they want us through their grip on the building land of Ireland.
And of course there is J.P. The 'Sundance Kid' who has built a myth that he made his money from taking on the bookies whereas in fact his 'legendary' Cheltenham bets cost him about the equivalent of an old age pensioners 10p yankee. His wealth actually comes from currency trading.
Currency trading is all very esoteric. Unless of course you happen to be a Senegalese peanut farmer who finds that the value of his crop halves between the time of planting and harvest because the likes of the Kid has made a killing against the Franc. But he does give to charity. A big thing with the K Clubbers. Not that you'd ever know about it, if they didn't keep telling us all the time!
So that's my beef with golf. Not as a sport but as one of the playthings of the non-productive rich. One of them, Joe Lewis of ENIC who like a lot of them owns soccer teams as a hobby, once paid £1.4m for a round of golf with Tiger. I would like to think that Tiger laughed his head off at him as he trousered the cheque.
Of course, someday Ciara might be able to demand the same figure for humiliating middle-aged white Europeans. Fathers do it for nothing.
An Phoblacht Magazine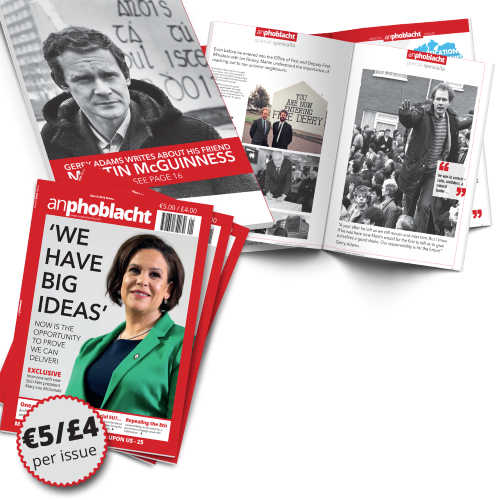 AN PHOBLACHT MAGAZINE:
The first edition of this new magazine will feature a 10 page special on the life and legacy of our leader Martin McGuinness to mark the first anniversary of his untimely passing.
It will include a personal reminiscence by Gerry Adams and contributions from the McGuinness family.
There will also be an exclusive interview with our new Uachtarán Mary Lou McDonald.
test