28 September 2006 Edition
Tax: The social cost of right wing proposals
BY CAOILFHIONN Ní DHONNABHÁIN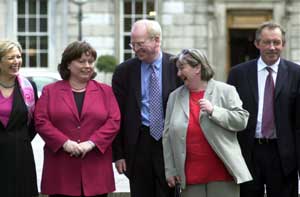 Getting High on Cutting Taxes
The Progressive Democrats have been peddling their proposals for new tax cuts in recent weeks. A compliant media has uncritically reported these proposals. No analysis has been presented regarding the heavy price that ordinary people pay for such cuts, or the damage that follows when the state does not have the revenue to provide for public services and social protections. Any such tax cuts, if they were introduced, would have the additional effect of fuelling already rapidly rising inflation. For example, abolishing stamp duties would have the effect of pushing up house prices, increasing inflation and reducing the revenue available to address the housing needs of families who languish on social housing waiting lists.
Many continue to long for tax cuts that are not in their own best interest. Prices are rising. Energy costs are rising. The escalation of house prices hasn't slowed down in a decade. Inflation is making mortgage repayments harder to meet. The pushers of the low-tax ideology eye up the vulnerability of people facing these unrelenting challenges. They attempt to convince you that you need tax cuts: that if taxes were cut you would have the disposable income to cope with rising prices, that you could afford certain commodities if not for the state taking part of your money through taxation. They say nothing of the inflationary effects of cutting taxes, or the underlying reasons for the rising prices.
And who doesn't feel some pleasure in finding that a little less tax has been taken out of their wages and that there are a few extra euros in their take home pay at the end of the week? That is the primary attribute of an addictive drug - the ability to induce euphoria while causing harm.
Much to lose
Those who support the PDs may have much to gain in promoting tax cuts, but society as a whole has an awful lot to lose. People need to make themselves conscious of the damage that further cutting taxes will do to their quality of life and to public services, such as health and education, on which they depend. Look at the damage that the fetish for cutting taxes has done in the United States, where the absence of a public health system means that many people who don't have the money for private health insurance cannot access healthcare for themselves or their children. The malevolence of those advocating these ideas, as well as the high cost of low social spending, needs to be recognised. Addiction is characterised by the repeated use of substances or behaviours despite clear evidence of the detrimental effects that result from such use. The addiction to cutting taxes is no different and our response should be no different to that which in the past has greeted drug pushers operating in our communities.
Public services must be funded through the general taxation system. The taxation system must play a key role in redressing inequality by ensuring the equal distribution of the wealth of Ireland amongst the people of Ireland. We have to be bullish in resisting the pushers of a low-tax ideology and confident in advocating for a progressive and redistributive taxation system which is unquestionably in our best interest.
An Phoblacht Magazine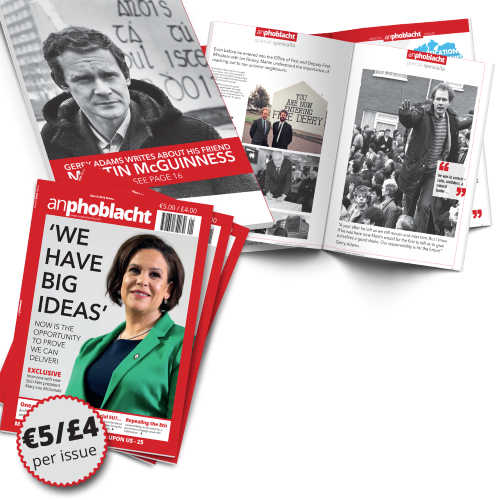 AN PHOBLACHT MAGAZINE:
The first edition of this new magazine will feature a 10 page special on the life and legacy of our leader Martin McGuinness to mark the first anniversary of his untimely passing.
It will include a personal reminiscence by Gerry Adams and contributions from the McGuinness family.
There will also be an exclusive interview with our new Uachtarán Mary Lou McDonald.
test