21 September 2006 Edition
Nuacht na nOibrithe
BY Justin Moran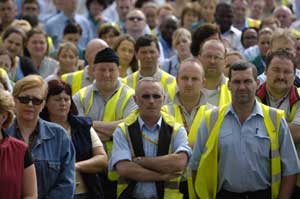 Members defy SIPTU leadership to veto Aer Lingus privatisation
As An Phoblacht goes to press emergency talks have begun between the leadership of SIPTU and Aer Lingus following the rejection by workers of a business plan considered a crucial component of the proposed privatisation.
Three of SIPTU's sections in Aer Lingus voted to reject the proposal, delivering an unequivocal rejection of the proposal - despite its endorsement by the SIPTU National Executive, which has resigned itself to the airline's floatation.
Under SIPTU's rules, a vote by any one section to reject the proposal means that the union must reject it entirely. Union officials met staff yesterday morning to outline clarifications received from Aer Lingus during emergency negotiations in an effort to resolve the dispute. But only one section is needed to veto, and with the existing three standing firm, a quick resolution seems unlikely.
Meanwhile, members of the Impact union at Aer Lingus have voted by a majority to back Labour Court proposals on changes in work practices at the airline. Over 90% of cabin crew and management staff and 82% of pilots voted for the agreement, which will see pay increases of 4 per cent, service-related lump sums, improvements in long-service increments and increased benefits in the event of death in service.
Nurses serve strike notice
The Psychiatric Nurses' Association (PNA) and SIPTU Nursing have served three weeks' notice of their intention to take industrial action over the failure of the authorities in the health service to provide a compensation scheme for psychiatric nurses assaulted at work, in line with the recommendations of a joint employer-union task force.
The decision follows ballots of psychiatric nurses in the two organisations which resulted in overwhelming majorities of over 90% in favour of industrial action. The respective Executive Committees in each organisation will meet shortly to decide how the action - which could include withdrawal of services - should be implemented.
The Department of Health and Children and the Health Services Executive Employers' Agency had promised to brief the unions on their proposals for the scheme in July, following an intervention by the Labour Relations Commission, but failed to do so. In view of the failure by management to honour their previous undertakings, the unions decided to ballot their members on the issue.
"It is appalling that nurses have been put in this position," said PNA Industrial Relations Officer Seamus Murphy. "The Government and the employer have broken numerous promises, both with regard to the implementation of the Task Force Recommendations and with regard to subsequent undertakings at the Labour Relations Commission. If the shoe was on the other foot and nurses had broken agreements, an immediate penalty would be imposed of having national pay rises withheld."
SIPTU National Nursing Official Miriam McCluskey added: "There are consequences when any party reneges on an agreement - particularly an agreement reached under the auspices of the Labour Relations Commission. No union can tolerate an employer acting in this manner."