14 September 2006 Edition
Feature: Sectarian attacks continue in Ballymena
Roots of bigotry to be found in attitude of unionist parties
With attacks against Catholics living in Ballymena area on the increase over the past number of weeks, An Phoblacht's PEADAR O FAOLÁIN questions the will of the DUP to tackle the sectarianism at the core of the political fabric in North Antrim.
In the wake of the killing of Catholic teenager Michael McIlveen in the North Antrim town of Ballymena in May there was a vocal reaction against sectarianism that gave people hope. There was hope that the outpouring of grief created by the slaying of a schoolboy would lead to some enlightened political thinking. There was hope that the stance taken by community leaders would force those driven by anti-Catholic hatred to desist from attacking their neighbours.
However the hope that the outrage over the killing of 15-year-old McIlveen would change anything in Ballymena was soon found to represent a false dawn. What the pundits and the media ignored, and continually ignore, is the fact that those who carry out sectarian attacks are driven by a bigotry that has its meaning in the political fabric of the Six Counties. Their bigotry is justified in the attitude of the unionist parties, particularly the DUP, who treat nationalists as second class citizens.
DUP abuse
Indeed, in the weeks immediately after the death of Michael McIlveen Sinn Féin proposed that Ballymena council establish an anti-sectarian forum. Not only did the DUP refuse to back the motion, its councillors drummed on their desks and whistled as Sinn Féin councillor Monica Digney made her proposal.
Digney, the sole Sinn Féin representative on Ballymena is constantly abused by DUP politicians who refuse to let her speak. She has been threatened on a number of occasions by unionist paramilitaries. One of those threats was made against her in the council office.
And only last week she was warned that a bomb had been placed under her car.
Clearly the DUP create an atmosphere in which sectarian bigotry thrives. It is against this background that we have seen an upsurge in sectarian violence in Ballymena in this past week or so.
Four Catholic families have been targeted by petrol bombers. A Catholic family was petrol bombed in the Ballyloughlan Park on 13 August. A woman escaped injury when her Parklands home was attacked on 26 August while a family of four also had a lucky escape when on 29 August two devices were hurled at their Dunfane Park home. The following day 30 August saw a three man gang attacking a family on the Dunclug estate.
Young Catholic men are still fearful they will be attacked if they go for a night out in Ballymena Town centre and on at least two occasions two men were confronted by loyalist gangs and threatened.
UDA involvement
According to Sinn Féin spokesperson Padraig McShane the gang behind the attacks have UDA connections.
"The dogs in the street know who is behind this upsurge in sectarianism", said McShane.
McShane also pointed out the hypocrisy of the DUP who, "refuse to recognise Sinn Féin political mandate yet have no difficulty in taking part in loyalist band parades organised by loyalist paramilitaries.
"Loyalist bands pay tribute to dead members of loyalist killer gangs, band members chant slogans in support of the UDA and UVF and a big part of their repertoire are sectarian tunes yet the DUP defend these parades as part of 'loyalist culture".
Unfortunately that culture seems to translate itself in a hatred of Catholics, even dead ones.
And the latest attack on the memory of Michael McIlveen saw an electricity sub-station, near where the schoolboy was fatality injured, and which became a memorial to him after messages of sympathy were written on it, attacked by paint bombers.
Meanwhile Sinn Féin has called on those nationalist youths involved in a petrol bomb attack on the home of a Protestant family in Millfield, near the Dunclug estate, to "desist from such attacks. Some people see this retaliation as justified, but there is no justification for attacking people because of their religion".
An Phoblacht Magazine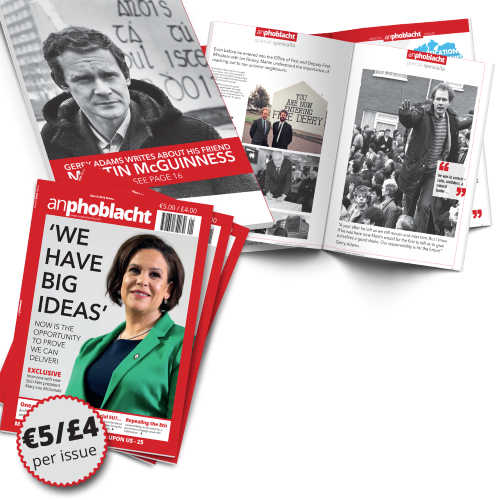 AN PHOBLACHT MAGAZINE:
The first edition of this new magazine will feature a 10 page special on the life and legacy of our leader Martin McGuinness to mark the first anniversary of his untimely passing.
It will include a personal reminiscence by Gerry Adams and contributions from the McGuinness family.
There will also be an exclusive interview with our new Uachtarán Mary Lou McDonald.
test