14 September 2006 Edition
Maskey attends Basque court case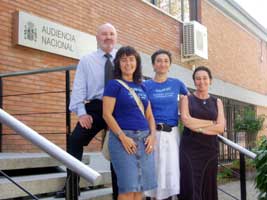 Alex Maskey MLA pictured outside the Spanish Audencia Nacional after giving testimony as part of the 18/98 court case. The contraversial trial is part of Baltazar Garzon's ongoing political campaign against Basque left wing nationalists. 90 journalists, human rights activists, lawyers, business people and political activists are being accused of providing ETA with political and logistical support over a period of two decades.
Maskey has denounced the 'show trial' arguing that is was part of an attempt to "criminalise those involved in legitimate political activity". The South Belfast MLA also told Spanish and Basque journalists that the trial "was contrary to the logic of conflict resolution" and called on the Spanish government to intervene in order to bring such "show trials to an end".
This phase of the case is due to finish in December. The prosecution is asking for sentences of between 15 and 50 years imprisonment for the accused. 2007 will see the commencement of the trial's third phase.