7 September 2006 Edition
The Fifth Column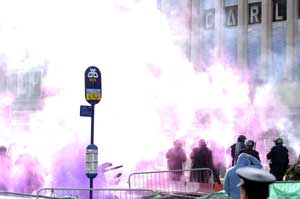 Riotous behaviour
The Fianna Fáil/PD claims that the violence around Willie Frazer's aborted 'Love Ulster' provocation in Dublin last February was a well-organised riot has been well rubbished - by the Garda.
A memo written by Chief Superintendent Bill Donoghue (and leaked to Sunday newspapers) says that the five-hour rampage of burning cars, looting and attacking Gardaí was "a random act of violence perpetrated by random persons".
The damage caused by non-PD entrepreneurs seeking 'five-finger discounts' (i.e. shoplifting) is said to have cost €250,000 and lost Dublin businesses €10 million in trade as paying shoppers saw the value of escaping the Love Ulster hullabaloo.
Both Bertie Ahern and the real leader of the PDs, Michael McDowell, had ranted in the Dáil that the attacks were "organised" and co-ordinated by ringleaders using mobile phones and loud-hailers.
Right-wing hacks had to swiftly back down on their false alarm that Sinn Féin had been behind the mayhem until Bertie and Mac came up with the alternative "organised mob" line. Now Bertie's and Mac's own law man has said there is no evidence to back up their allegations.
Do I predict a riot? Yes, when Justice Minister McDowell carpets Chief Super Donoghue.
Paradise Peeler
While the PSNI is still busy recruiting child informers (see news elsewhere in An Phoblacht), a former RUC superintendent has swapped his short in Belfast for shorts in Bermuda. Bryan Bell is the West Indies island's new assistant commissioner of police.
Bell joined the hated RUC as an 18-year-old, getting his first posting to Ballycastle. He was such a fine specimen of humanity that he climbed the greasy pole in the RUC Special Branch to become the 'National' Co-ordinator of Special Branch.
So will it be a Branchman's holiday?
"Within the first week that I arrived, we had a fatal shooting involving some young people."
Just like the old days in the RUC.
Orange Green voters
A University of Liverpool study has found that more than 5 per cent of Orange Order members surveyed said they were likely to vote SDLP. What's even more startling is that 2 per cent said they would vote for Sinn Féin if they couldn't vote for their preferred unionist party!
Professor Jonathan Tonge said that some Orangemen might have misunderstood the question. On the other hand, he said curiously, DUP-supporting brethren without a Paisleyite candidate in their constituency could vote republican simply because they hate the Ulster Unionists so much!
Mansion House mysteries
The alleged UVF bomb at the Mansion House official residence of the Lord Mayor of Dublin - claimed to have been planted 25 years ago to wipe out the Sinn Féin leadership at the 1981 Ard Fheis - was puzzling.
If true, why hadn't the UVF claimed it long before now?
If true, why hadn't Garda or republican security checks in 1981 and successive years uncovered the bomb (cunningly disguised as a fire extinguisher in a roof space right above the speakers' platform!).
And why did PD Justice Minister Michael McDowell sit on the news for two days before the Guards started their hunt for the would-be lethal device that could have wiped out the republican leadership?
Surely it's too far fetched to suppose that anyone heard of the UVF plot earlier and hoped that - if true, just maybe - it could have removed one more thorn in their side: another self-styled republican leadership... as Fianna Fáil TDs celebrate the party's 80th birthday at the Mansion House in May.
An Phoblacht Magazine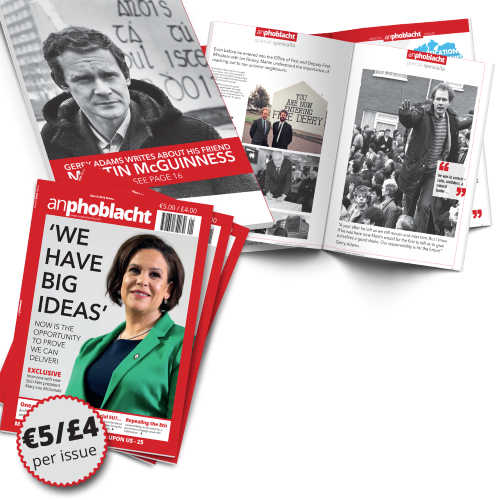 AN PHOBLACHT MAGAZINE:
The first edition of this new magazine will feature a 10 page special on the life and legacy of our leader Martin McGuinness to mark the first anniversary of his untimely passing.
It will include a personal reminiscence by Gerry Adams and contributions from the McGuinness family.
There will also be an exclusive interview with our new Uachtarán Mary Lou McDonald.
test