31 August 2006 Edition
Fifth Column
The Pink Panther
The life of the eccentric former republican activist turned MI5 informer and fantasy super spy, Seán O'Callaghan, staggers from one bizarre episode to another.
Once dubbed 'The Jackal' by the Fleet Street media, the one-time IRA activist - along with his mentor, right-wing author Ruth Dudley Edwards - was the key figure in a curious court case in England last week that was more Pink Panther than Day of the Jackal.
Supposedly in hiding from the IRA, O'Callaghan's cunning ruse was to shack up in Dud's West London pied-á-terre (as if the IRA wouldn't have worked that one out!).
Looking for a bit of 'R & R' during house-sitting while Dud was sunning herself in Tuscany last September, O'Callaghan went across the road to the local gay pub in Ealing. There, the Secret Squirrel met two men, total strangers, and took them home - whereupon they promptly tied him to a kitchen chair at knifepoint and ransacked the house.
Seán O'Callaghan is scratching a living in the media as a 'security expert'.
He's not very security-minded, is he?
James Bondage
O'Callaghan's two new men friends claimed that the would-be MI5 super spy invited them back and asked to be tied up as part of a bondage session.
O'Callaghan denied this, said it was just for drinks. The jury at Isleworth Crown Court believed him. They convicted one of the dirty duo, a drug addict, of robbery (the other is still being sought by police).
Maybe the defendant's solicitor should have reminded the jury of O'Callaghan's testimony to a libel hearing in the Dublin High Court in 1998 when he swore on oath that he had not told the truth consistently in the previous ten years.
Cruising for a bruising
O'Callaghan's house guest was lucky that transportation to Van Diemen's Land for robbery has been abolished.
Passing a five-year sentence on the miscreant, Judge Richard McGregor-Johnson told him he was lucky not to be facing "an indeterminate sentence of either life or for public protection".
Aside from being knocked to the floor and tied up, the MI5 super spy was unscathed.
The charges were robbery and deception (using the stolen credit cards).
The threat of a life sentence is not the customary penalty for opportunist burglars, even if they have waved a knife at their victim.
Ruth-less PC
Ruth Dudley Edwards lost credit cards, cash and jewellery when O'Callaghan was having an after-hours snifter with the local larcenists, but the most upsetting loss, the court was told, was her computer.
It hasn't been recovered and Ruth didn't back up her files.
She reads this column. Indeed, she even wrote to us on 7 February 2002 to tell us that she and Seán prefer champagne to cocktails.
As a public service, if the reprobate who robbed Ruth's PC would like to send it to An Phoblacht we'll make sure it's returned to its rightful owner. Honest.
Special Branch surprise witness
Ex-Garda Special Branch Detective Sergeant Gerry O'Carroll is shooting from the lip in his 'tough-talking' column in Dublin's Evening Herald. The Herald slogan may have been 'The Herald has it' but I don't get it so this one is from early in August.
Garda Gerry was in a blue fit about Sinn Féin's countrywide postering campaign to commemorate the 1981 H-Block Hunger Strike: "cheap and downright illegal".
Nothing new there, you might suggest. What do you expect from a Garda detective but a grunt. But Gerry's take on the H-Block Hunger Strike is a veritable revelation.
"Let's get one straight here," Garda Gerry states for the record. "The men who died on the 1981 Hunger Strike lost their lives in hideous circumstances, fighting for something they believed in to the death... But the recent tawdry postering that is being carried out illegally has nothing in common with such events. It's cheap and shoddy and smacks of the lowest common denominator electioneering on the part of Sinn Féin."
Filing a complaint about republicans' alleged monopolising of the Tricolour, Garda Gerry produces startling new evidence about the Special Branch's hitherto hidden admiration for the H-Block prisoners.
"A message now needs to be sent to [Sinn Féin and the IRA] that they cannot do the same with the H-Blocks.
"Those tragic events in 1981 are part of all our history, not just Sinn Féin's."
For once, we won't be challenging the Special Branch man's statement.
1916 was "terrorism", says Sunday Times
It's official - the Sunday Times regards the 1916 Rising as "terrorism".
Missing the fact that stations are already called after 1916 heroes (Connolly, Heuston, etc) because Rupert Murdoch's journos probably eschew public transport for Chelsea Tractors, Sunday Times News Editor John Burns is irked by the successful campaign by County Wicklow Sinn Féin Councillor John Brady to have the train station at Bray reinstate its official name in honour of the 1916 fighter Commandant Edward 'Ned' Daly. Ned Daly (1891-1916) was the youngest to hold that rank and one of the youngest to be executed by a British Army firing squad in the aftermath of the Rising.
Mr Burns blustered:
"In 1966, a law was passed that forced CIÉ to rename 15 of its stations after terrorists/heroes (delete according to taste) of the 1916 Rising."
Despite the Sunday Times's rearguard action, Bray will now carry the name "Bray/Daly" and underneath in Irish "Bré/Uí Dhálaigh".
The station in Dun Laoghaire will revert to Dún Laoghaire/Malin as well, after another executed leader of 1916, Michael Malin.
Bet the Sunday Times wouldn't complain if they were named after Winston Churchill, Clive of India or Princess Diana
An Phoblacht Magazine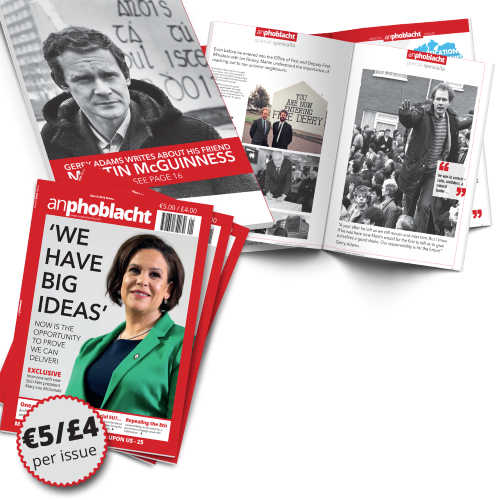 AN PHOBLACHT MAGAZINE:
The first edition of this new magazine will feature a 10 page special on the life and legacy of our leader Martin McGuinness to mark the first anniversary of his untimely passing.
It will include a personal reminiscence by Gerry Adams and contributions from the McGuinness family.
There will also be an exclusive interview with our new Uachtarán Mary Lou McDonald.
test