31 August 2006 Edition
Hunger Strikers and local republicans remembered in Strabane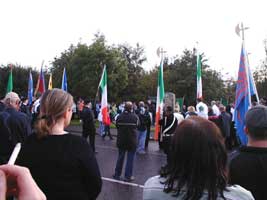 Large crowds turned out last Saturday evening in Strabane to take part in the Annual West Tyrone Volunteers Commemoration and the unveiling of a seven foot granite memorial stone at Townsend Street as a permanent tribute to the 1981 Hunger Strikers.
The memorial stone was unveiled by Brendan Hurson, brother of Hunger Striker Martin Hurson, while former Blanketman Gerry McConville addressed the crowd. Sinn Féin West Tyrone MLA Barry McElduff delivered the main address at the local republican plot.
In a joint statement following the commemorative events, Siubhán Mhic Giolla Éin of the Strabane 81 Hunger Strike Committee and Jay McCauley of Strabane National Graves said that the decision to jointly organise the local commemoration in conjunction with the unveiling of the permanent tribute to the memory of the 1981 Hunger Strikers was "a natural one for all of us who lived through that seminal period in the course of Irish history, as it was the courage and sacrifice of those ten brave men that motivated the decision by many of our family members, friends and comrades whose names are enshrined on the West Tyrone Roll of Honour and Remembrance to become involved in the struggle for Irish freedom.
"A large number of young people who were not even born in 1981 also took part in Saturday evening's commemorative events, and speakers contrasted the enduring respect and esteem in which the Hunger Strikers are held after 25 years with how Maggie Thatcher and her regime have vanished into virtual obscurity."