24 August 2006 Edition
Workers' Rights: Action needed on workplace deaths
BY STEPHANIE LORD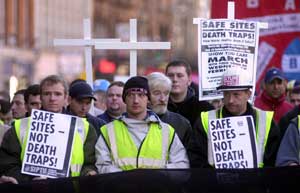 The case for corporate manslaughter legislation
Figures for workplace fatalities in the 26 Counties are increasing by the month and it should be worrying: for workers and their families, for trade unions, for employers, and for the Government.
Fatalities that emerge as a result of negligence rather than genuine accidents are also on the rise at a similarly steady rate. More stringent health and safety regulations are long overdue.
Sinn Féin has consistently argued the case for the urgent introduction of legislation that will put corporate killing on a statutory footing. When the figures are analysed, one has to ask why such legislation has not been introduced.
According to the 2005 Health and Safety Report, 23 people were killed in workplace accidents in the construction sector compared to 16 in that sector in 2004. The same report also told us that there were only 40 prosecutions for offences related to breaches of health and safety laws. Fines imposed for these breaches amounted to €463,338 - a paltry figure when considered in business terms.
It is not unreasonable to assume that some employers may take a 'cost/benefit' approach to the implementation of health and safety requirements in the workplace. For example, it may cost more to arrange a safer traffic management system in the workplace or to replace damaged machinery than to pay the fine that would be imposed on the offending company should the death of an employee occur on the job. While this may seem a very cynical opinion of companies, it is not without warrant.
Recently the Court of Criminal Appeal reduced the fine of a roofing company that had been penalised after the death of an employee.
Peter Gaffney had suffered serious head injuries after falling 12 feet while working for Gerard F. May Roofing Ltd in Templeogue, Dublin. He died in Tallaght Hospital six days after his fall.
The roofing company had originally been fined €100,000 for breaching various health and safety regulations but the court in this instance reduced the figure to €20,000. Derek May, the managing director of the company, had pleaded guilty on behalf of the company at Dublin Circuit Criminal Court for failing to ensure the safety, health and welfare of his employees while at work and failing to ensure the availability of a guard-rail to prevent an employee from falling. In the Court of Criminal Appeal, counsel for the defendant argued that the €100,000 fine was "unduly severe" and a large fine would affect the viability of the company. In delivering the judgment, Justice Adrian Hardiman concluded that the fine was "excessive" when the company's financial position was taken into account and thus reduced it to €20,000.
It should not be the case that a company responsible for the death of a worker through its own negligence can argue that any fine imposed is "unduly severe". It hardly acts as an incentive for companies to comply with the inadequate health and safety legislative requirements that currently exist. A system that allows reckless employers to get off scot-free for the death of an employee must not be allowed to continue.
Under the laws in place in the 26 Counties, a company can be prosecuted for gross negligence manslaughter, but there have been no prosecutions under this offence to date. The lack of prosecutions in this area is due to the fact that, in order for a corporate manslaughter charge to succeed, it has to be proven that there is at least one senior member or director of a company who is "the controlling mind" and has sole responsibility for the policies which brought about or helped facilitate the circumstances that led to the fatality. The difficulty here is that in most cases company policy is determined by a number of company directors. If no single "controlling mind" can be established then no charge can be brought.
The Law Reform Commission Report on Corporate Manslaughter made two main recommendations which Sinn Féin is supporting:
That a new criminal offence of corporate manslaughter be enacted which would make a company responsible for a death arising from a company's gross negligence;
That there should be an offence for a corporate entity's high managerial agents of grossly negligent management causing death.
The Law Reform Commission also recommended that the "controlling mind" test be replaced by a much wider range of factors in deciding whether or not gross negligence has occurred. These factors could then include the activities of a panel of directors who decide on company policy, etc., and would greatly ease the difficulties that exist in bringing a case against the company. Also included in these proposals is that a member of management found to have contributed to the corporate manslaughter offence can be prosecuted personally and be liable for imprisonment of up to 12 months and/or payment of a fine.
If the corporate manslaughter offence was established it would be far easier for companies to be prosecuted where there has been a fatality on their hands. Sub-contractors would also come under the remit of this legislation.
It is highly likely that, with the threat of personal prosecution, far more attention would be paid to implementation of statutory health and safety requirements than in the present case where the company as a whole pays a very insignificant sum. Possible prison sentences alongside large fines and penalties could go a long way to rectifying the lax approach that some employers take to workers' safety.
As workplace injuries and fatalities rise by the month the Government needs to realise that corporate manslaughter legislation could be a key to stopping the carnage.
An Phoblacht Magazine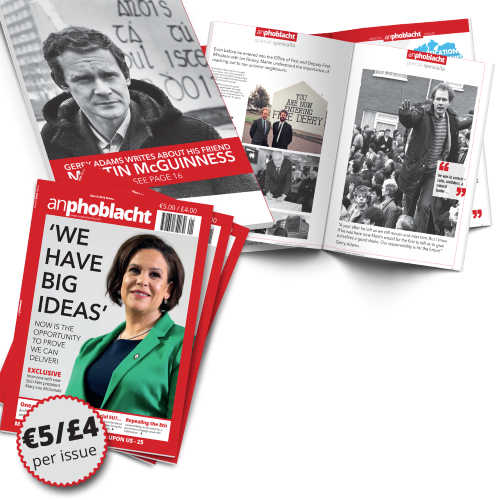 AN PHOBLACHT MAGAZINE:
The first edition of this new magazine will feature a 10 page special on the life and legacy of our leader Martin McGuinness to mark the first anniversary of his untimely passing.
It will include a personal reminiscence by Gerry Adams and contributions from the McGuinness family.
There will also be an exclusive interview with our new Uachtarán Mary Lou McDonald.
test