3 August 2006 Edition
Fifth Column
Dawn strike at Paisley
When DUP leader Ian Paisley denounced her membership of the Policing Board, Dawn Purvis of the UVF-linked Progressive Unionist Party hit back at the grand-daddy of unionism.
Dawn told the media that the DUP leader accepted an armed UVF guard during 'The Troubles' "without complaining".
She said that UVF gunmen routinely guarded the Paisley family home in East Belfast and provided security when Papa Doc attended rallies.
Big Daddy Paisley and his normally strident son, Ian Junior, have been strangely silent since Dawn's retaliatory strike at the DUP.
One-stop cops
Those sensitive souls of the Garda National Immigration Bureau at Dublin Airport have resisted official moves to put them in solitary confinement.
Airport apparatchiks wanted to reduce the sort of chaos and suffering caused to some of the two million summertime arrivals by up to 90-minute delays in sweltering heat. So they decided to speed up the process by replacing the two existing booths staffed by three officers each by building four individual checkpoints. But the Guards like their own company and some of that cop-on-cop closeness as they size up the huddled masses queuing for a céad míle fáilte, and so they put all their flat feet down and said no.
Now airport chiefs have backed down and demolished the one-stop cop stops, replacing them with two larger police boxes that can hold two officers comfortably.
A-hunting we will go
Kate Hoey, the Belfast-born unionist and pro-hunting British Labour Party MP, finds her political life under threat from a 'Hoey Must Go' campaign.
Party activists in her London constituency of Vauxhall are hacked off at the former sports minister's joyful chairing of the Countryside Alliance, especially since the Alliance actively campaigned against Labour in the last elections.
"We're sick of a Labour MP heading up an anti-Labour organisation," the Hoey hunters trumpeted. But 'Tally Ho Hoey' thinks she's so well got in the area that she's not an endangered species yet.
"I'm not bothered. I am a very good MP."
And the chair of the local Tories agree about Catharine Letitia Hoey.
"Kate's constituents love her.
"If Labour won't have her, we certainly will."
And she'll feel right at home.
Avril Doyle's damages
Bet Fine Gael MEP Avril Doyle won't be appearing on any joint policy platforms with Pat Rabbitte's Labour Party after her performance on Dublin radio station Newstalk 106 at the weekend.
After proudly telling a listener of The Wide Angle that Fine Gael was "The United Ireland Party" (no, don't mock - she believes it), Avril's aristocratic knickers got in a real twist.
Firstly, Lady Avril was vehement in her defence of discrimination in favour of the better off through a two-tier health service and private health care.
Then she became positively shrill in her condemnation of the Ploughshares Five peace activists. The famous five had damaged property (i.e. $2.5 million damage to a US warplane bound for Iraq) and therefore should be excoriated, denounced, reviled, condemned and just short of being horse whipped.
The peaceniks, Lady Avril snorted, were guilty of "violence", the Fine Gael MEP implicitly accepting the violence that the aircraft was to wreak on Iraqi civilians.
Wonder what the Labour policy wonks and their left-wing activists will make of that.
From An Phoblacht to the Sun
An Phoblacht fan Tony Blair was speaking to the editorial chiefs of another popular tabloid this week when he addressed a jacuzzi-load of executives from Rupert Murdoch's News Corp media empire, including The Sun.
The British premier made his pitch amid rumours that Rupie might have a job lined up for him on the News Corp board alongside the ousted right-wing Spanish premier, Jose Marie Aznar, another of Bush's allies in the 'Coalition of the Willing'.
But perhaps more immediately on Tony's mind is Rupie's backing for the Blair project and his legacy before he moves on.
The Murdoch stable has a third of the British newspaper reader market.
Former Downing Street spin-doctor Lance Price, Alastair Campbell's Number 2, has described Rupert Murdoch as "the 24th member of the Cabinet". He explained:
"No big decision could ever be made inside No 10 without taking account of the likely reaction of three men - Gordon Brown, John Prescott and Rupert Murdoch."
In the court of the Sun King
The Guardian editorial opinion on Monday commented on the Blair-Murdoch meeting:
"Mr Blair's visits to News Corp not only recognise that power but enhance it. The same also is true of other politicians and other media groups - witness Gordon Brown's courting of the Daily Mail. Had Mr Blair declined the invitation, David Cameron might have been on the podium yesterday. All of this is demeaning.
"Do leaders court Mr Murdoch because they respect him or because they think he can get them elected? Both possibilities are unsettling. Democratic politicians should take care before paying homage at the court of the media king."
Swankpots
Explaining why he ran for election, Tory MP Boris Johnson said:
"It's 30 per cent of a desire to be of public service, 40 per cent sheer egomania, and 30 per cent attributable to the belief that the world not ought to be run by swankpot journalists, showing off and kicking politicians around when they haven't tried to do any better themselves.&qu
An Phoblacht Magazine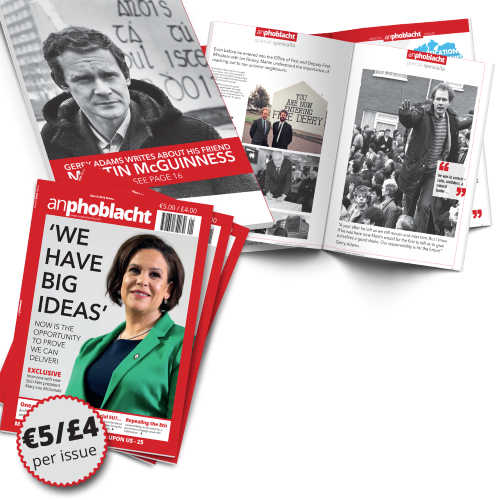 AN PHOBLACHT MAGAZINE:
The first edition of this new magazine will feature a 10 page special on the life and legacy of our leader Martin McGuinness to mark the first anniversary of his untimely passing.
It will include a personal reminiscence by Gerry Adams and contributions from the McGuinness family.
There will also be an exclusive interview with our new Uachtarán Mary Lou McDonald.
test