27 July 2006 Edition
Fifth Column
Tony Blair was an An Phoblacht man
While the most common student reading material at Oxford University outside of class was Viz, Playboy and Campaign for Real Ale News, Tony Blair (the future Prime Minister of Britain) wanted nothing better than to get between the sheets of An Phoblacht.
It has been revealed that Tony wanted his Junior Commons Room to order An Phoblacht (and the anti-Pinochet Chile Monitor) while he was a law student at St John's College in the 1970s.
It's not clear, however, if the Oxford swots acted on Tony's motion and ever did take out a sub but even the thought of such a daring revolutionary act in Blair's socialist era has caused some ripples in the English Fourth Estate.
Even the Irish Independent seemed uplifted by Tony Blair's radical reading.
"It transpires that Tony Blair wasn't always the imperialist running dog that he was revealed to be during the open-mic session with George 'Down Boy' Bush at the G8. Back in the day, he was a right old lefty," columnist Lise Hand announced a little heartily.
The Daily Mail headline read, "Tony Blair, the Sinn Féin newspaper fan," before going on to quote our esteemed editor, Seán Mac Bradaigh, who was distinctly underwhelmed by the revelation that Anthony wanted An Phoblacht.
"Universities and colleges across the world subscribe to An Phoblacht and it doesn't reflect their political opinions.
"Tony Blair would have regarded himself as a socialist and it would have been de rigeur to read An Phoblacht and other publications like the Chile Monitor."
Mac B added that, in the 1980s, the British Embassy in Dublin used to send one of their junior spooks on a regular errand to the Sinn Féin bookshop to pick up their copy of An Phoblacht.
"Some of the most anti-republican journalists read An Phoblacht," Mac Bradaigh declared triumphantly, without naming names.
Tony Blair no longer needs to subscribe to An Phoblacht; he has lots of people working for him who do.
Hitting home
Leo Enright's RTÉ Radio 1 Sunday morning chat show came under fire from pro-Israeli supporters for not having someone on his panel to counter the overwhelmingly critical voices of Tel Aviv's scorched earth policy in southern Lebanon.
"We did try to get someone from the Friends of Israel," Leo pleaded in defence, "but they were out of town".
Out of town? Unlike tens of thousands of Lebanese families and their children who were forced "out of town" by the Israeli air force, though, at least the Friends of Israel had homes to go back to.
Hits at home
Also on the Leo show, film critic Michael Dwyer reviewed the latest Hollywood movies and previewed Sunday night's RTÉ TV special, 1 to Remember with Brian Kennedy, reprising songs that made Number 1 in the Irish music charts in years gone by.
"Of course," Michael Dwyer laughed, "some Irish chart-toppers won't be featured: such as The Men Behind the Wire and Give Ireland Back to the Irish."
I bet he was right.
Rank disgrace
Just what is going on in the ranks of the British queen's ceremonial bodyguard, the Household Cavalry, which includes amongst its officers the self-styled Prince Harry?
A cavalryman has been arrested for a series of alleged bomb hoaxes on the eve of the 7/7 anniversary of the London bombings so that he could get out of guard duty.
The not-so-super trooper is suspected of planting a fake device in his own Hyde Park Barracks base and making bogus calls to the Old Bill.
More seriously, another of the queen's escort was given a police escort down the Knightsbridge nick on charges of possessing child porn.
Pictures allegedly show girls as young as five and six forced to engage in sex acts with adult men were found on the soldier's mobile phone when another squaddie answered it after the owner left it behind in barracks.
The 26-year-old soldier was arrested while investigations continue.
An Phoblacht Magazine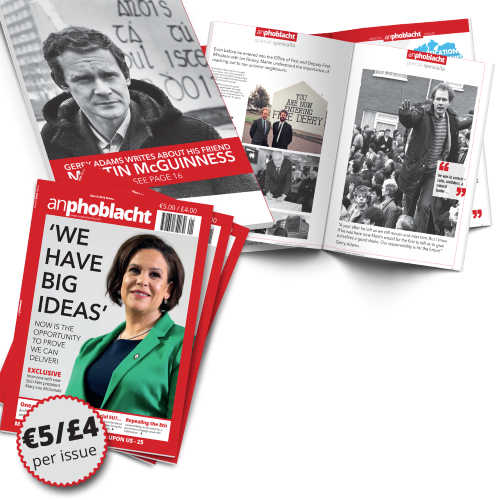 AN PHOBLACHT MAGAZINE:
The first edition of this new magazine will feature a 10 page special on the life and legacy of our leader Martin McGuinness to mark the first anniversary of his untimely passing.
It will include a personal reminiscence by Gerry Adams and contributions from the McGuinness family.
There will also be an exclusive interview with our new Uachtarán Mary Lou McDonald.
test