6 July 2006 Edition
TDs in South Armagh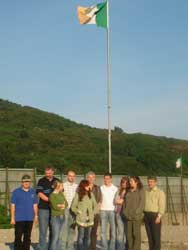 Sinn Féin TDs and support staff from Leinster House met last Friday, 30 June in the heart of South Armagh where, during a series of meetings, they set in place strategies for the General Election expected next spring and were briefed by Party President Gerry Adams.
In the Tí Chulainn Centre in Mullaghban the Sinn Féin Leinster House team also reviewed progress made over the past 12 months and formulated their approach for the remainder of the current Dáil.
The series of meetings included discussions on policy, campaigns and electoral preparation.
PSNI land grab
The Sinn Féin TDs visited Crossmaglen where they met families on the Square who had been informed that the PSNI were to steal their lands which had previously been seized and occupied by the British Army.
Sinn Féin Dáil leader Caoimhghín Ó Caoláin TD said: "The people of Crossmaglen and South Armagh in general have lived with the reality of British occupation for decades. As someone elected to represent a neighbouring constituency I know this only too well. It is unacceptable that as we have finally reached a point where the British government are beginning to take seriously their responsibilities to demilitarise, the PSNI have moved in and are attempting what can only be described as a shabby land grab.
"The intention of the PSNI to steal property currently occupied by the Crown Forces indicates that the military agenda of the political detectives within the PSNI is still writ large. The British government have in the past clearly indicated that land currently occupied by the British Army will return to its rightful owners. Sinn Féin are determined that this will be the case with the ground adjacent to the homes and businesses on Crossmaglen Square.
"We raised this issue with the two governments yesterday and we will continue to campaign along with the people of this area for a complete demilitarisation of the British war apparatus and for the return of occupied land to its rightful owners."
The Leinster House team were well received during their stay in South Armagh and were treated to a tour of the area which included sites of republican interest and a visit to the site of the dismantled RUC/British Army barracks at Forkhill which was recently reclaimed by local people and where the Tricolour now proudly flies.