6 July 2006 Edition
Defence Bill infringes neutrality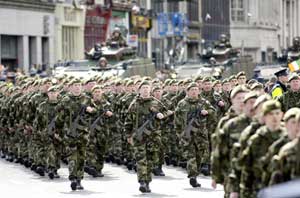 Sinn Féin TD Martin Ferris has described the Defence (Amendment) Bill 2006 as "a gross infringement of the principle of Irish Neutrality." Speaking at a Peace And Neutrality Alliance (PANA) press conference in Dublin on Tuesday, Ferris said Sinn Féin had "serious reservations" about the legislation which was rushed through the Dáil on Tuesday to enable 26 County defence forces participate in controversial EU Battle Groups.
Speaking at the PANA press conference Ferris said: "Sinn Féin has serious reservations about this legislation. In particular, we are opposed to the integration of the defence forces into the EU battle groups, the elimination of the triple-lock safeguard and the underhand manner by which the Bill is to be passed at midnight following less than two-and-a-half hours debate. This in itself should raise alarm bells for the public", he said.
The Kerry North TD said the UN must have primacy in international affairs above all other regional groupings and organisations. While the UN was in need of radical reform if it was further sidelined as proposed, it would lead to more illegal wars like that on Iraq and Irish defence forces could have an even more direct complicity in such wars.
Ferris said the Bill also introduced a form of secondary conscription. Up until now members of the defence forces volunteer to undertake services overseas. The Bill would remove the voluntary nature of such service by requiring it from members under orders.
"Not only does the proposed legislation imply a gross infringement of the principle of Irish neutrality but in addition they will weaken the United Nation's ability and capacity to respond to international crises effectively, since European troops will be diverted to these battle groups and other non-UN forces.
"Sinn Féin have tabled amendments to the Bill and failing the acceptance of these we will oppose its passage tonight", Ferris said.