8 June 2006 Edition
Media View BY FRANK FARRELL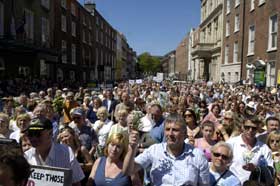 Arrogance and elitism in face of public outcry
One sure sign of this government's increasing remoteness from Irish people was its reaction last week to the public outcry, as expressed on RTÉ and other stations, to the government's bungling of the statutory rape crisis. And the 'quality' (ie, middle class) media were, as usual, closer to the politicians than the people. According to more than one media report there was "quiet fury" among government politicians at the "highly irresponsible" coverage by Joe Duffy's Liveline show and the Gerry Ryan Show.
Sunday Tribune political correspondent, Shane Coleman, was in full agreement with this view and described scenes of protesters listening to Liveline via loudspeakers outside the Dail as reminiscent of Orwell's 1984. Coleman's colleague, Diarmuid Doyle went further and blamed the Irish people themselves who deserved what they get for a) electing this government (does this mean that parents deserve to have their children abused?) and b) complaining with the "most astonishing ignorance" on RTÉ. "It's hard not to be cross with the people", Doyle wrote in a comment that would destroy any politician arrogant and stupid enough to utter it. John Waters weighed in with his own, sophisticated brand of elitism with remarks in The Irish Times that also blamed the "mob" for the shaky legislation since enacted.
Interestingly, Coleman also reported that the same angry politicians were afraid to complain officially to RTE lest the public regard them as passing the buck on the affair, a comment that, however inadvertently, got to the heart of the matter. Both Duffy and Ryan merely acted as loudhailers for a widespread, genuine anger at the Government's failure to deal with a legal crisis that rendered children vulnerable to rapists and paedophiles.
Condescending language and legal niceties from such as McDowell and his media admirers were like broken reeds against the gale force of public anger. People had a right to be angry and if politicians compounded their initial negligence with hasty legislation then it's the politicians who are to blame - as well as those journalists who defend them against the wrath of the "mob".
*******************
Looks like the media has become more sceptical about unsourced claims of leading republicans being British agents. Members of that small media club which can always be relied on to purvey the securocrat spin (because they are left-republicans, you understand) initially helped to drive the recent smear campaign against Martin McGuinness. However, these 'socialist' media experts had gone all quiet last weekend as the more open champions of the British war effort- The Sunday Times, of all papers, rubbished the McGuinness smear.
There was a strong sense of disappointment and frustration from the ST's Liam Clarke who explained how every conceivable opportunity to prove the McGuinness allegations had been offered to his normally trusted sources, those ex-spies whose lurid yarns are normally treated like the Dead Sea Scrolls. Unfortunately, they could not authenticate their story although this did not stop Clarke from relieving his frustration in another, contradictory story inside the paper that suggested McGuinness might be a British spy because he was never shot or injured in the North. Neither was Liam Clarke.
*******************
My colleague, An Phoblacht's distinguished sports writer, Matt Treacy, finds it difficult to enthuse about GAA activity outside the Pale, never mind foreign games so it is left to me to appeal for some 'maturity' when it comes to Ingerland's war effort, sorry, World Cup campaign in Germany.
Many readers (and most other Irish people) will want to become Swedish, Paraguayan, Trinidadian, Argentinian, (Oh Yess, especially Argentinian!) or any other nationality that Ingerland come up against in the World Cup for 90 minutes or so in the next fortnight. But mature, intelligent columnists in newspapers like the Irish edition of The Sunday Times, Sunday Tribune and Sunday Independent have appealed to all of us to resist such backward instincts and embrace our nearest neighbours in their Corinthian crusade.
The Sindo's Declan Lynch did at least keep his tongue in cheek while exhorting us to support England although the Tribune's Shane Coleman trotted out the usual clichés about our "closest neighbours" and how he had grown up and out of prejudice against England- apparently it is a very open society. Meanwhile, Frank Fitzgibbon in the ST did not, presumably, have any difficulty with his editorial masters in London over his column proclaiming "I'm backing Stevie G to score the World Cup winner".
This column suggests that when England play in the World Cup Frankie, Shane and Deco should wander into any pub outside Dublin 2 (I suggest the Submarine Bar, Walkinstown, for a start) and tell the crowd (or should that be mob again?) to grow up and support Ingerland. They should tell them to stand four square with England's loveable fans, objective commentators and the entire modest nation that gave the world Empire, civilisation, cricket and soccer. Football is coming home, lads and lassies- the World Cup is going to Brazil.
An Phoblacht Magazine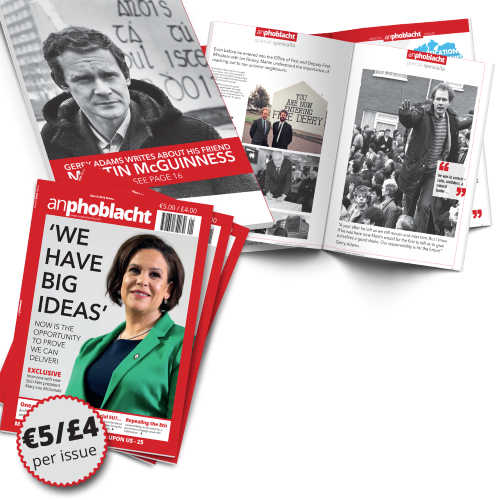 AN PHOBLACHT MAGAZINE:
The first edition of this new magazine will feature a 10 page special on the life and legacy of our leader Martin McGuinness to mark the first anniversary of his untimely passing.
It will include a personal reminiscence by Gerry Adams and contributions from the McGuinness family.
There will also be an exclusive interview with our new Uachtarán Mary Lou McDonald.
test