1 June 2006 Edition
The Matt Treacy Column
No easy routes for Tyrone
When Tyrone won the All Ireland last year, having been beaten by Armagh in the Ulster final and despatched to the qualifiers, it was commonly agreed that it was probably the hardest won of all titles in the history of the competition. They played a total of eight matches, including three replays.
This year should they repeat last year's triumph, after being defeated by Derry in the Ulster quarter final last Sunday, they will have to play at least the same number. It is a huge task and one that will not be made any easier with the ongoing injury concerns around several key players.
There is a theory that Tyrone might actually prefer taking the so-called 'scenic route' and avoiding the allegedly tougher competition in Ulster. I cannot imagine for one moment that Mickey Harte will have contemplated this. Certainly, Tyrone will now be focusing positively on the road ahead but he gave no impression that he was other than extremely disappointed about what had happened at Omagh.
Besides, the qualifiers are no guarantee of an easy route. Nor of avoiding Ulster teams that are capable of putting up a good performance on the day. As it stands now, Tyrone will have to wait until next Sunday to find out who they will have to face. The chances of drawing a poor team first are high. After that, however, Tyrone could draw anyone as good teams exit from provincial semi-finals and finals.
Personally I hope that Tyrone do advance as I am looking forward to another encounter between themselves and the Dubs in High Summer, or maybe even late September. Hopefully, not in the qualifiers on June 17!
Apart from Tyrone's departure, the match at Omagh was otherwise dismal viewing unless you happened to be a Derry person. Paddy Crozier's men did the needful but honest to God it was awful to look at. It was free-ridden and cynical with whatever 'game plan' there was in place resembling gridiron more than what we commonly think of as Gaelic football.
That is not necessarily a critique of Ulster football. Fermanagh and Antrim served up a relatively free flowing game the weekend before and in poor conditions. It is however a critique of a mentality that rests primarily on preventing the other team playing than playing oneself. In fairness, Derry had the forward power, centred on Paddy Bradley, to win that particular war of attrition and won't particularly care about the aesthetics. Hopefully, they will have a different plan for the next day against Donegal or Down.
In contrast to Omagh, the Munster hurling semi final between Cork and Clare at Thurles was a joy to watch. Even for Clare people up to a point! It was fast. It was furious. It was free-flowing. And there were no lads doing imitations of the Dying Swan any time an opponent came within a foot of them.
Clare started well and for a while seemed about to justify some of the pundits who had been predicting that Clare were going to cause a shock. It was not to be. As this Cork team proved on a number of occasions last year, they do not panic. They weathered the early storm even if 'The Rock' at times looked just a small bit outpaced at first by Alan Markham who had moved to the edge of the square.
All the same Markham only managed to score one point, and the Cork backs once they settled down were parsimonious in the extreme. The half back line of Gardiner, Curran and O hAilpin in particular were impressive, especially in the second quarter when the Rebels had weathered the early storm and were sweeping up Clare attacks.
On the face of it, the Cork forwards with only seven points from play might be adjudged to have a bad day, but those statistics do not tell the whole story. Joe Deane gave one of his best performances for a long time and was a constant danger. He was also instrumental in winning most of the six frees which he converted and was only denied a goal in the first half by an amazing stop by Davy Fitzgerald.
For all their denials over talk about the three in a row, there is no doubt but that Cork are consumed by that quest. Few stand in their way. Certainly either Waterford or Tipperary will muster their pride for the Munster final in Thurles on 25 June and if they do raise their game it could be one of the matches of the year. Looking at the calendar now, it is the only thing that would conceivably tempt me away from Croke Park on the same day that Dublin are likely to meet Laois in the Leinster football semi-final.
Especially if it is Tipp who get to take on the champions. First of all they have to overcome Waterford on Sunday. Babs' men will be favourites but even though Waterford have been beset by the loss of Ken McGrath and John Mullane they have proven themselves over the past three or four years to be well capable of raising their game against any opposition. Certainly, Tipperary will need to be at least as good as they were against Limerick if they want to earn the right to take on Cork.
Sunday coming, Dublin begin their quest for Sam in Longford and are unlikely to be upset. Likewise, Laois should account for Carlow. The Ulster game between Donegal and Down is harder to call. Down will probably be marginally favourites but it is not a match I would wager on.
An Phoblacht Magazine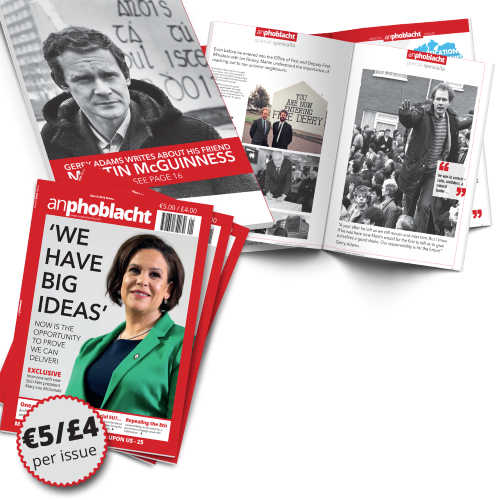 AN PHOBLACHT MAGAZINE:
The first edition of this new magazine will feature a 10 page special on the life and legacy of our leader Martin McGuinness to mark the first anniversary of his untimely passing.
It will include a personal reminiscence by Gerry Adams and contributions from the McGuinness family.
There will also be an exclusive interview with our new Uachtarán Mary Lou McDonald.
test