1 June 2006 Edition
Clondalkin: Strength and determination in the face of problems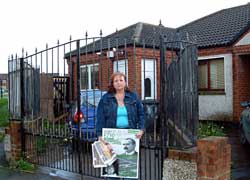 A Dublin community ready for change
The scourge of anti-social behaviour, afflicting many of our towns and cities, is usually accompanied by other social problems- all a direct result of Government policies. This week JOANNE SPAIN, Sinn Féin's Dublin Mid West General Election candidate, outlines the nature and extent of problems facing the people of Clondalkin in west Dublin and the valiant efforts of the local community to improve conditions.
Frances McGrath lives in fear. In 2004, her home was petrol bombed. Since then, the tyres of her cars have been routinely slashed. Her windows have been smashed. She has had urine poured over her and has been verbally and physically assaulted at her front door. Her tormentors have singled out her British accent, picked up after a few years living in England, for sectarian insults - 'Brits out' and a union jack were painted on her walls.
Frances is living under siege and has spent €7,000 on turning her council home in Quarryvale, Clondalkin, into a fortress with seven-foot iron railings and Perspex windows.
When I met her last week she was at the end of her tether and told me that she was feeling suicidal. After her home was attacked in 2004, South Dublin County Council agreed to put her on a transfer list. Last year, she spent five months in hospital as a result of stress related illnesses. She has reams of doctor's letters and police reports calling for her to be immediately moved. The council responded to her plight in a Dublin newspaper article last week. They said they were aware of it, but that they prefer to deal with anti-social behaviour rather than just move people out of situations. Clearly, they are incapable of dealing with anti-social behaviour.
"I ring the police several times a week," Frances said. "They are sick of me. They tell me to get on to the council about a transfer. The council refer me back to the police."
Dublin Mid West is a case study of how polarised the 26 County state as a whole has become. On the one hand there is Newcastle and Rathcoole, well-to-do areas where local TD and resident Mary Harney gets most of her votes. Then there are areas like Quarryvale, Neilstown, and Rowlagh, all in Clondalkin and with such a degree of deprivation that they more or less immediately qualified for the RAPID (Revitalising Areas by Planning, Investment and Development) scheme.
Canvassing in these areas can be both distressing and heart-warming. At one door, a family of nine- three generations, is seeking a transfer out of their three-bed. At another, a single mother is looking for the council to move her away from neighbours who are bullying her and her kids.
While some people have been ground down by their surroundings others are resilient. I met a woman in Quarryvale recently who has been a community activist for several years and has never stopped fighting for facilities and proper policing in her area, despite local intimidation.
"I won't let my children play outside this door," she told me. "I would rather they were angry at me than they got in with any of the gangs that go around. We're ignored here. Even at election time, we only get stuff put in the letter box; no one except Sinn Féin calls to the door."
Dublin Mid West has received mostly bad press in recent times. The M50 shoot out involved gangs from Clondalkin. Drug raids are frequent. The wife of John Cunningham, the man beaten to death in Clondalkin, was in the papers recently after having his baby.
Clondalkin has the highest rate of suicide in the 26 Counties. So many people have been affected by the tragedy that sometimes it can feel like everybody you meet has lost either a brother, or sister, or cousin or neighbour.
But for all the deprivation and suffering in their area, there is also a strength and determination to the people of Clondalkin. The Clondalkin Women's Network has become famous throughout Dublin for its organisation and efficiency in representing its member groups. Console, a new group focusing on suicide, got off to a fantastic start with its awareness week recently.
The North Clondalkin Community Development Programme (NCCDP) is a source for local information and hosts many public meetings to discuss available funding for the area and ways to build community strength.
Many of the area's achievements were fought for by groups like these. In 2004, for example, government cuts to the Community Employment scheme were successfully stopped by a campaign led by the NCCDP involving weekly demonstrations outside Mary Harney's Clondalkin office.
It is left to community groups to try to publicise and improve conditions in an area that has been so badly neglected by its TDs and local authority.
The approach to solving the problems people face in Clondalkin and other areas in Dublin Mid West has to be multi-faceted and involve all its political representatives.
Dublin Mid West as a whole suffers from the effects of poor planning and insufficient resources. Unemploy-ment among young males in the area is high. Childcare is sparse. Schools are disadvantaged. Social housing is almost non-existent. Leisure and retail facilities, with the exception of the controversially planned Liffey Valley Shopping Centre, are scarce.
Drug dealing and crime, invloving an anti-social minority are persistant problems which adversly affect the lives of many residents. All of Michael McDowell's legislation has had little affect in areas where it should matter.
The area is surrounded by the M50, N4 and N7, three of the most congested roads in the country, and residents face a transport nightmare. Health services are limited, despite Mary Harney being Minister for Health. Schools are overcrowded. Housing estates are sprawling further and further west of Lucan without the infrastructure to sustain healthy communities. The lowest price of a house in the Strategic Development Zone area of Adamstown, which is being built with necessary infrastructure, is €325,000.
Government resources need to be directed where the need is greatest. Dublin Mid West needs to be better serviced by transport infrastructure, health, education, housing and leisure facilities.
In 2004 Shane O'Connor, a late entrant to the local election race, topped the poll for Sinn Féin in Clondalkin. Féilim Mac Críosta came within a few votes of taking a seat in Quarryvale and Palmerstown. The reception to the party on the doors is telling. For too long the constituency has returned establishment TDs. Their rewards have been dubious planning decisions, social neglect and mismanagement. Local people are ready for change and they know that Sinn Féin is fighting to bring that about.
• Joanne Spain highlights traffic congestion, one of the many infrastructural problems in Dublin Mid West
An Phoblacht Magazine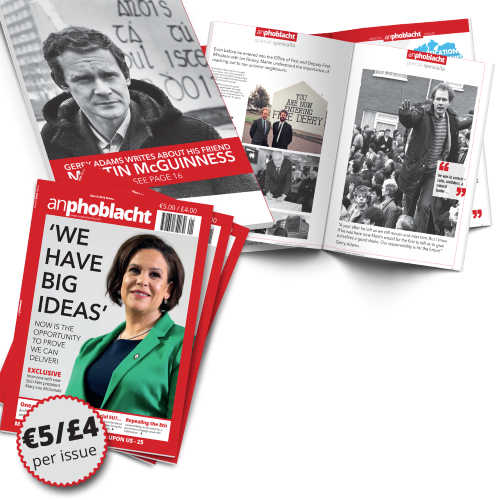 AN PHOBLACHT MAGAZINE:
The first edition of this new magazine will feature a 10 page special on the life and legacy of our leader Martin McGuinness to mark the first anniversary of his untimely passing.
It will include a personal reminiscence by Gerry Adams and contributions from the McGuinness family.
There will also be an exclusive interview with our new Uachtarán Mary Lou McDonald.
test