27 April 2006 Edition
Irish translators in EU crucial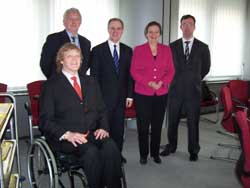 Sinn Féin MEP Bairbre de Brún has warned that recruitment of interpreters and translators for posts in the EU institutions is crucial to Irish as the 21st EU official language.
De Brún made her comments after an Irish language delegation made a return visit to the European Parliament for another round of meetings with EU officials to ascertain what progress has been made towards the implementation of the European Council decision to make Irish an official and a working language of the EU. On Tuesday a STÁDAS delegation briefed other Irish MEPs at a meeting hosted by Seán Ó Neachtain MEP.
Speaking on Tuesday Bairbre de Brun said: "Yesterday I accompanied a number of Irish language activists to a series of meetings with EU officials. It emerged during the course of the day that a number of steps will be taken in the coming months to identify and hopefully recruit both translators and interpreters for a number of languages, including Irish.
"One such step is the announcement of a competition. Details of a translator's competition are due to be published on 3 May, and we should know before the summer the date of the competition for conference interpreters for which Irish can be one of the languages. Sources in the European Commission and Parliament say they are very anxious to source quality graduates interested in training as well as fully qualified interpreters."
The Sinn Féin MEP said that while the picture regarding implementation of the decision making Irish an official and working EU language is becoming clearer, it was still essential that everything is done to ensure that the 1 January 2007 date for implementation is not allowed to slip. "Irish MEPs from across the political spectrum must unite in an effort to ensure that the language is treated on a par with other European languages", she said.