6 April 2006 Edition
Dúirt Siad...
This can only add to the apartheid system, based on income, that has come to characterise our health services. Noel Dowling, SIPTU national organiser on Health Minister Harney's plans to expand private home care, The Village 30 March.
People have been bullied out of RTE. Anonymous staff member on a recent survey conducted by RTE management which displayed them favourably, and did not reflect the actual input from staff, Ireland on Sunday, 2 April.
The Gardaí never admitted liability during during my high court action against the state three years ago. I ended up settling the case because my doctor advised. Roisin McConnell comments on the admissions of maltreatment made by two Gardaí to the Morris Tribunal on Gardaí corruption in Donegal last week, Sunday Tribune 2 April.
Intimidated and humiliated. Angela Frayne on the abuse she suffered at the hands of off-duty Garda Norbert Eames for stickering his car in a restricted parking zone. He has, amazingly, been found guilty of abusing his position twice by internal Garda investigations. Not so amazingly he is still in the force, Irish Independent 4 April.
Issues in the LRC report may be applicable to the written reply issued by McDowell. Dr Eoin O'Dell TCD defamation expert on a Law Reform Commission report which casts doubt over legal indemnity for written replys as opposed to verbal ones making legal action a possibility in the Frank Connolly scandal.
Fighting the cause from inside the fence. The Orange Order's Don McKay on how he sees his role as on the parades commission, Irish News 4 April.
It is totally wrong to go about the job of tackling poverty wherever it exists on anything other than the basis of objective need and need alone. Gerry Kelly MLA on the allocation of 30 million funding to exclusively loyalist areas, Irish News 3 April.
An Phoblacht Magazine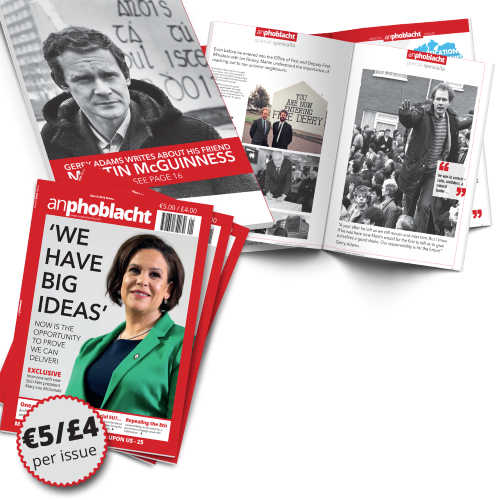 AN PHOBLACHT MAGAZINE:
The first edition of this new magazine will feature a 10 page special on the life and legacy of our leader Martin McGuinness to mark the first anniversary of his untimely passing.
It will include a personal reminiscence by Gerry Adams and contributions from the McGuinness family.
There will also be an exclusive interview with our new Uachtarán Mary Lou McDonald.
test