6 April 2006 Edition
Book Review: Devastating exposé of 19th Century Ireland
BY SHANE Mac THOMÁIS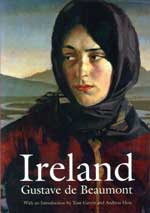 A nation of paupers
Ireland: Social, Political, and Religious
By Gustave de Beaumont
Published by Harvard University Press
Price €32
The French sociologist, Gustave de Beaumont, visited Ireland in 1835 and wrote: "I have seen the Indian in his forests, and the Negro in his chains, and thought, as I contemplated their pitiable condition, that I saw the very extreme of human wretchedness; but I did not then know the condition of unfortunate Ireland...In all countries, more or less, paupers may be discovered; but an entire nation of paupers is what was never seen until it was shown in Ireland."
For anyone wanting to understand the causes of Ireland's struggle against British rule this book is invaluable and is only marred by an introduction from revisionist histor "misery, naked and famishing,... shows itself everywhere."
And the cause of it all, ''a cause primary, permanent, radical, which predominates over all others," is '"a bad aristocracy".
With Irish Catholics barred from public employment and most professions, and from commerce, Beaumont wrote, there was "no career open but that of farming", leading, inevitably, to "the number of farmers being greater than the number of farms". The result was "a vicious circle: bidding up of rents (causing evictions) and, shrouding it all, endemic famines".
The landowning aristocracy, had "allowed such a mass of evil to accumulate in the country entrusted to its care, that the wretches on whom the burden presses, shake it off from sheer inability to sustain it longer", Beaumont noted. ''There is no longer a social state: it is war. It is anarchy."
When Beaumont wrote, the Great Famine of 1845-49 still lay in the future. Beaumont focused on that "extraordinary and unspeakable event" in a preface to a 1863 French edition. The passions he had seen earlier '"are still there, as alive as ever," he wrote. "The enemy of the Irishman is still he who, sooner or later, might take away the land he occupies."
Archaic in its writing style Beaumont's Ireland is at times heavy going, but for an in-depth analysis of Ireland in the 1830s it is second to none.
An Phoblacht Magazine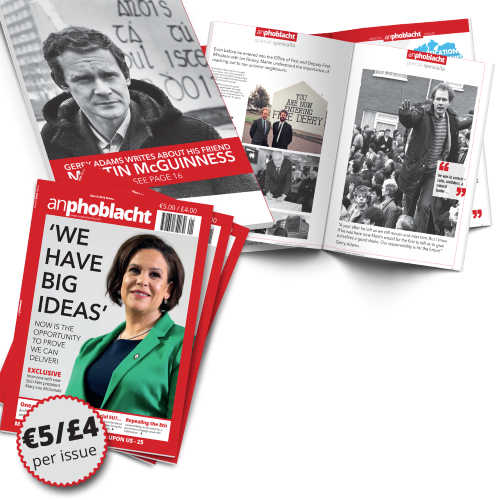 AN PHOBLACHT MAGAZINE:
The first edition of this new magazine will feature a 10 page special on the life and legacy of our leader Martin McGuinness to mark the first anniversary of his untimely passing.
It will include a personal reminiscence by Gerry Adams and contributions from the McGuinness family.
There will also be an exclusive interview with our new Uachtarán Mary Lou McDonald.
test