6 April 2006 Edition
Fifth Column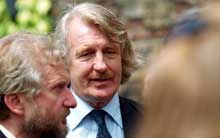 The thinger and the thong
The weekend revelations of mercurial singer Sinéad O'Connor on her website, that she has been dismally disappointed by the bedroom antics of Sunday Independent editor Aengus 'Tarzan' Fanning and his black satin thong , overshadowed Jody 'Corky' Corcoran getting all steamed up in the Sindo's news-sheets about Sinn Féin.
Scribbling furiously for the favours of his mega-millionaire media boss, the unelected Sir Anthony O'Reilly, knight of the British realm, the jobbing hack broke out in a sweat after discovering that Sinn Féin has political ambitions.
Yes, it's news to Corky that (unlike Labour: "seemingly content as the smaller of coalition partners") Sinn Féin wants to be active on the ground, relevant to communities, recruit new members, build popular support, actually win power to implement its policies and achieve a reunited Ireland!
"Sinn Féin's ultimate political ambition is today exposed", the unelected press baron's minion squeals triumphantly. "Within a generation, or even sooner, it intends to run this country, north and south, and eventually as one."
Okay, Woodward and Bernstein, it ain't, but it gets Corky up in the morning (unlike his editor, it seems).
Ready, Eddie, Go
Eddie Espie, the SDLP Vice-Chair who bizarrely called on Gerry Adams to resign a few weeks ago when Denis Donaldson was exposed as an RUC/PSNI Special Branch police spy, has himself resigned from the SDLP. And the SDLP chief launched a withering attack on the SDLP leadership and head office staff over their poor performance and their stinking attitude to the rank and file.
Throwing in the towel with a public statement to SDLP party chair Patricia Lewsley on his ramshackle website, Eddie despairs that the SDLP is a pale shadow of its former self, relying on past glories.
"The party [used to represent] the street politick of ordinary working men and women, unlike the boardroom politico it has turned out to be. Today, the same level of elected representative dedication is missing in many areas. Political leadership lacks a distinct charisma. Policy is progressively lost to outsiders who harp back to the long-gone days and ways of the past. It is my opinion these outsiders have little or no political sharpness; they are stuck in the past. These same people, having gained influence, ignore the party membership in branches, constituencies, committees, sub-committees and various groups, even the party executive...
"In the background of vagueness and instability, those who most intensely oppose reforms have thrived; the destroyer and the political dinosaurs have taken advantage of political inactivity by generating artificial hope through unfilled promises. All that dialogue about growth, reform, on party building and return to electoral supremacy is alright for specifying once a year at party conference but in the real world, in a growing number nationalist areas all the way through the country, the SDLP is in electoral decline."
I couldn't possibly comment.
Government puppets?
Just what is going on in the Green Party? Leader Trevor Sargent has taken a hefty swipe at RTÉ TV's new cult super-stars, Podge and Rodge. The "bawdy bachelor farmers of Ballydung" ditched starchy Sargent as a guest in favour of the more ample charms of Celebrity Big Brother 'babe' and glamour model Jodie Marsh.
The Irish Independent said:
"Political journalists had to double-check that they were not being set up for an early April Fool when they received an official statement from the Green Party branding TV stars Podge and Rodge 'gutless' and 'spineless'."
Sargent Straightlace said:
"It's no coincidence that RTÉ has reneged on its agreement in the same week of our Ard Fheis, and in the same week that polls show us gaining in support. Perhaps someone in the Government parties has asked that I would not be included. It's certainly an unusual event."
But even a couple of rubber dummies like Podge and Rodge weren't stuck for an answer.
Podge lashed back:
"Jodie Marsh became available, so someone had to go, and Trevor Sargent isn't as easy on the eye."
Or the ear.
An Phoblacht Magazine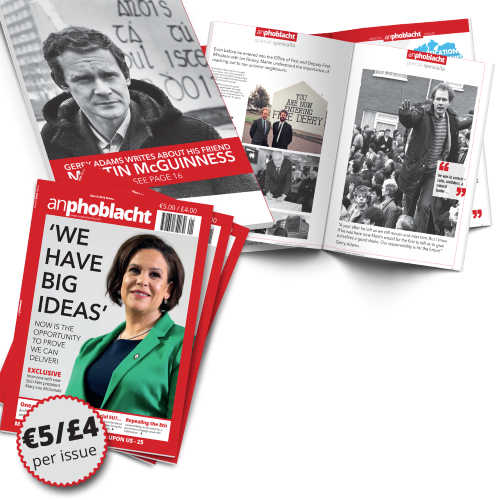 AN PHOBLACHT MAGAZINE:
The first edition of this new magazine will feature a 10 page special on the life and legacy of our leader Martin McGuinness to mark the first anniversary of his untimely passing.
It will include a personal reminiscence by Gerry Adams and contributions from the McGuinness family.
There will also be an exclusive interview with our new Uachtarán Mary Lou McDonald.
test