6 April 2006 Edition
The Matt Treacy Column
Professionalism would undermine GAA
The children of Gaelscoil An Culóg were given the chance to strut their stuff during half time of last Sunday's Dublin Carlow National Hurling League game. I might have said that they had their "day in the sun" except that would have been a totally inaccurate description of the climatic conditions as their appearance coincided with a shower of hailstones that might have heralded the coming of The Rapture.
Fair play to them, they paid no heed to the appending apocalypse as they pursued the sliothar around the muddy field with the intense devotion that only small children can bring to such affairs. I'm not sure who won or that it matters and they all looked pretty pleased with themselves afterwards.
More than Dublin did as they traipsed back to the St. Sylvester's dressing rooms after being given a close, hard game by Carlow. And perhaps even fortunate to emerge as one of only two teams, along with Armagh, in the hurling league with wins from all their matches. It is true that Carlow had been motivated by the chance to make the quarter-finals while Dublin were already into the semi-finals, but I would imagine that Tommy Naughton will not have been totally happy with their performance.
The Carlow minor hurlers also went down by the narrowest of margins to Offaly at the weekend. Proof perhaps, that things are not as gloomy on the hurling front as I might have predicted last week.
Speaking of which, I actually came across a chap reading this column in the pub before Sunday's game. Which is a nice sort of symmetry when you think about it. I write it in the pub. Someone else - possibly the only one - reads it in the pub. Anyway, I watched him with some fascination but he was giving little away other than several neutral grunts. I was tempted to go over and ask him what did he think of it, but I am not sure my fragile self-esteem would have survived being called a gobshite in a strange pub on a Sunday morning.
Himself and his buddies at the bar then proceeded to have one of those surreal conversations that possibly only take place in Dublin. They normally start with a question like "Tell me, how would I get from Chapelizod to Ringsend without passing a pub." I don't know, a helicopter or something. "No, no. I'm serious."
Or "Who was the only man ever to play football for Dublin and whose brother's dog once ate a postman. Beyond in Lusk. Now, there's a clue there." Of course instead of studiously ignoring the interrogator or telling him to cop himself on, other chaps - women are far too sensible and busy to engage in such idle talk, what with the soaps and all - will furrow their brows and start guessing. "Jimmy Keaveney?" "No". "Was it Gay O'Driscoll?" "He might have ate a postman alright. But no" And so it will go on until everyone is too drunk to remember what the original question was, or some other distraction will have impinged itself on their dimming consciousness.
Anyway, last Sunday, in a certain northside hostelry the conundrum posed was "If I had an old sixpence, and I went into a shop, and I spent fourpence ha'penny in old money, how much would I have left in new money." "In Euros?". "No, in fecking roubles. Of course in Euros. Will you listen to me".
Somebody asked him what was he buying with the sixpence. Peggies Legs and Striker bars. There was some discussion as to how much these had cost. Then they decided that it didn't matter. "For talk's sake" Which is Dublinese for a license to spout the most outrageous nonsense without fear of contradiction. For talk's sake they were buying Peggy's Leg, Macaroon bars and some Cleeve's toffee which apparently if you started to chew of a Monday morning you'd still be at it the following week.
For sanity's sake I stopped listening to them and returned to my Sudoku. Which is like pool. The more alcohol you consume the better you become at it. Unlike hurling. Although the more you drink the better Dublin look.
The threat of a players' strike organised by the Gaelic Players Association (GPA) has faded although they still plan to make some form of protest prior to the weekend's final round of football league games. By all accounts the feedback from the players regarding a strike was negative.
The issue of players' welfare is a serious one and needs to be addressed. Hardly anyone with a close interest in the association wants to see the introduction of professionalism. There is no reason, other than the fact that they bring in big money (and I am not trying to be smart), why the Dublin footballers or the Cork hurlers should be paid while the man or woman who drives the under 10s to their matches or marks the pitch shouldn't be. Without them there would be no Ciaran Whelans or Diarmuid O'Sullivans. That is the bottom line as far as most members are concerned.
However, players should not be put at a loss because they wear their county jersey even though that far outweighs for most of them any possible pecuniary reward. Whether this is addressed through some form of grant or through tax credits or better expenses is up for debate. But that debate needs to take place and the players need to be involved through their chosen representatives.
Professionalism, in the manner in which it was introduced in Irish rugby, would be a disaster. The entire structure of the association would be undermined. Not morally but in real terms because the essential link between the club and county would be broken. The GPA is on strong ground when it argues for the right of all players, especially from weaker counties, to be treated properly even with regards to basic issues such as playing gear and meals. However, if it strays into the area of advocating wages for the minority who bring in the money they will lose much of the sympathy that is out there.
An Phoblacht Magazine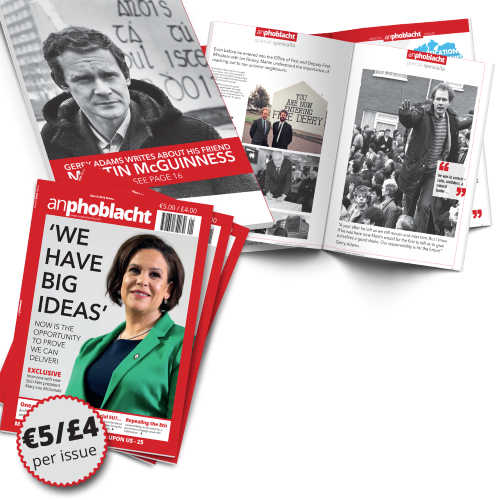 AN PHOBLACHT MAGAZINE:
The first edition of this new magazine will feature a 10 page special on the life and legacy of our leader Martin McGuinness to mark the first anniversary of his untimely passing.
It will include a personal reminiscence by Gerry Adams and contributions from the McGuinness family.
There will also be an exclusive interview with our new Uachtarán Mary Lou McDonald.
test