6 April 2006 Edition
Mitchel McLaughlin Column
Halfway Houses unacceptable
Prospects for success seem limited as Tony Blair and Bertie Ahern arrive in the North today in their latest attempt to instil momentum in the political process.
It appears neither man has learned from years of trying to satisfy unionist demands. Each time unionists threw a tantrum they performed somersaults to placate David Trimble. The former UUP leader recognised this as a weakness and continued to huff, puff and bluff.
If the governments proceed in the manner indicated, they are set to repeat the mistakes made with Trimble, and are inviting more intransigence by indulging Ian Paisley and the anti-Agreement DUP.
Sinn Féin has made clear that any proposal that does not deliver full implementation of the Good Friday Agreement is unacceptable. Reports of DUP proposals for a continuation of British Direct Rule, with Ministers accountable to Committees of the Assembly, are another attempt to usurp the Agreement while attempting to camouflage it as committee style government. Although this would serve no other purpose than to give cover to British Direct Rule Ministers, it seems a version of this is what the governments are intent on announcing.
The two governments seem incapable of publicly identifying and confronting the cause of the present impasse- DUP attempts to engineer a return to unionist dominated politics. In the meantime people in the Six Counties who are already paying higher than average for energy, transportation, food and other essentials will continue to suffer the effects of unaccountable Direct Rule and the decimation of frontline services. This is not what the people voted for and Sinn Féin will not accept it.
There is a general election approaching in the 26-counties and with it an opportunity to build the political strength that will allow us to hold to account whatever government is returned to power. A strengthened electoral mandate is vital as we strive to ensure that the Irish government acts in the best interests of all the people of Ireland and does not play a subservient role to a British or Unionist agenda.
During the Good Friday negotiations, Sinn Féin did not have the political strength to fashion the Agreement to deliver, at that time, the republican project. We nevertheless succeeded in getting as much of our agenda included so as to form a foundation on which we could build. Even though, eight years on, we are demonstrably stronger in every region of this island, we have not yet achieved the political strength to hold the two governments to account. But that does not mean that we will stand by and watch while an Irish government conspires with a British government to dilute the hard won gains that we negotiated.
It is therefore, incumbent on each and everyone of us to lobby every business, community, Trades union and any other lobby or political group that supported the Good Friday Agreement to send a loud and clear message to both governments, but particularly the Irish government, that we will not accept the imposition of any proposals that do not deliver fully on the basic terms and conditions of the Agreement.
An Phoblacht Magazine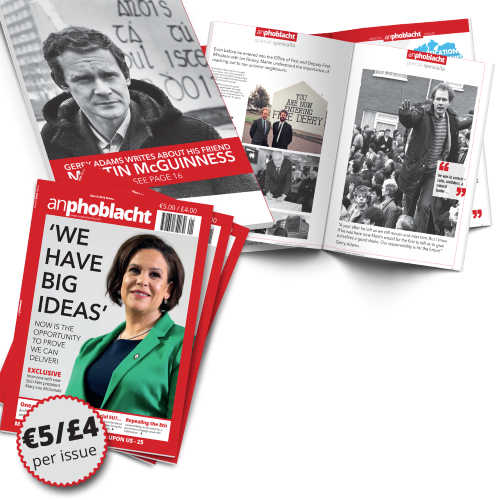 AN PHOBLACHT MAGAZINE:
The first edition of this new magazine will feature a 10 page special on the life and legacy of our leader Martin McGuinness to mark the first anniversary of his untimely passing.
It will include a personal reminiscence by Gerry Adams and contributions from the McGuinness family.
There will also be an exclusive interview with our new Uachtarán Mary Lou McDonald.
test