6 April 2006 Edition
Donaldson killing - who gains?
The killing of Denis Donaldson in Donegal on Tuesday was not carried out by republicans or by any friend of the peace process. In no way did it serve a republican agenda. We don't yet know who was responsible but the question that must be asked in all of this is who gains? Whose agenda does it serve?
Opponents of the Good Friday Agreement are trying to use Denis Donaldson's death to undermine the current efforts to make political progress, but the incident underlines the heavy responsibility on all parties and the Irish and British governments to move the peace process forward on the basis of that Agreement.
As the two Governments unveil their plans for advancing the process in Armagh today, it must be reiterated that anything short of what is required under the Agreement will represent a victory for Donaldson's killers and a defeat for the Irish people. The Irish Government in particular has a responsibility to stand by the Agreement.
The securocrats and the no men of unionism must not be allowed to set the political agenda. The governments need to listen to those parties who support the Agreement and want to work together rather than pandering to the DUP, a party that is politically isolated and clearly opposed to power-sharing. Sinn Féin will continue to do all it can to get power-sharing institutions back up and running. But there must be real democracy and accountability, not a Shadow Assembly with no powers.
Denis Donaldson was involved with the British secret intelligence services and RUC/PSNI special Branch for over two decades. While working for them he helped bring down the Executive in the Six Counties and who knows what other dark secrets he has brought with him to the grave?
His securocrat handlers exposed him and cut him loose in order to advance their agenda. His death removes a potentially embarrassing witness to their activities, while at the same time fuelling attempts to scupper political progress. That agenda must fail.
An Phoblacht Magazine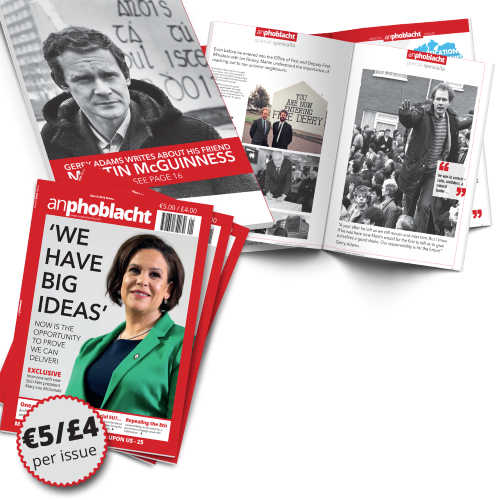 AN PHOBLACHT MAGAZINE:
The first edition of this new magazine will feature a 10 page special on the life and legacy of our leader Martin McGuinness to mark the first anniversary of his untimely passing.
It will include a personal reminiscence by Gerry Adams and contributions from the McGuinness family.
There will also be an exclusive interview with our new Uachtarán Mary Lou McDonald.
test