2 March 2006 Edition
The Matt Treacy Column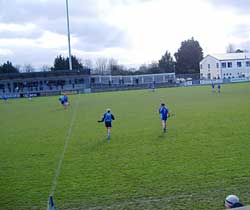 Hope for hurling's beleaguered bridesmaids
Such was the demand for tickets for the Dublin v Wicklow National hurling league game at Parnell Park, that myself and Councillor Larry O'Toole had to purchase ours at vastly over the odds on e-Bay. We also had to turn off our phones to avoid persistent requests from Norman Mailer, The Sugababes and Bono, who were offering all sorts of inducements for us to part with our precious possessions. I did give the Sugababes offer some consideration before reluctantly turning it down. National league hurling in February is what pushes my button, babes.
Despite Larry's reference to my being this paper's "much travelled sportswriter" I will ignore any insinuation that comment might contain and press on with my report. To begin with, it is not very often that the Dublin hurlers are on the right end of a 28-point hammering. Indeed, off the top of my head and even the bottom of my head, I cannot remember any, and believe me I would remember.
Wicklow, with the advantage of the stiff breeze blowing into the Church goal, started brightly enough and even managed to cancel out Dublin's first goal, with one of their own from Andrew O'Brien, before things began to go badly for them. Kevin Flynn of O'Tooles was in lethal form and ended the half with three goals, two of them in quick succession before the break, to leave Dublin with a flattering eight-point advantage.
Despite the valiant efforts of the Wicklow backs, for whom Brian Stones and Trevor McGrath were quite impressive, Dublin continued to pile on the scores with further goals from Alan McCrabbe and Stuart Mullen as well as a steady succession of points from David Curtin. Stout defence ensured that the rare Wicklow attacks yielded little.
I suppose like all teams it is easy to look good when everything is going well and the shots from 40 and 50 yards out are winging home like well trained pigeons. All the same, confidence can only increase and if there's one thing that the Dublin senior hurlers need after last year, it is self-belief. Promotion to Division One seems inevitable and they will be favourites to win the Division 2 title.
For long suffering Dublin hurling followers like myself, every little victory will be greedily accepted and hoarded as a comfort blanket against the bad times and a hope for better times.
Speaking of which, Antrim's decision to opt out of the Senior championship appears to have had a strange psychological effect on the men from the Glens. Not, perhaps, unlike the effect which Dublin's relegation to Division 2 has had on the Dubs. Antrim had been technically excluded in any event because they lost out in the play-offs last year, but could have qualified had they won the Ulster Championship.
Instead they have decided, not without controversy I believe, to concentrate on building within the county to a level where they can mount a respectable challenge to the big powers. With that monkey off their back they have turned in two remarkable performances over the past two weekends. First of all they overcame Galway and then last Sunday they travelled to Portlaoise where they fairly easily defeated Laois.
Looking at their remaining matches, I would only rule them out of defeating Kilkenny in Kilkenny. They have Tipp and Limerick at Casement and a good return from those games could see them not only safe in Division One but possibly into the play-offs. So relatively good times for two of the beleaguered bridesmaids of the game!
Saturday night in Parnell Park (I really should look into house prices in Donnycarney I suppose) saw the culmination of the Sigerson Cup competition and further woe for Queens of Belfast who went down to their third successive final defeat, this time to newbies Dublin City University who collected their first title in their first final.
It is interesting that the Irish equivalents of the 'ivy leaf' universities have been steadily elbowed aside in recent years by the newer institutions like Sligo and Tralee ITs, and now DCU which was founded in 1980. Their success has not come without controversy as they have been accused of recruiting part-time students like Dublin county player Shane Ryan, Westmeath's Dessie Dolan, Laois's Ross Munnelly and Wexford's Diarmuid Kinsella in a targetted attempt to win the competition.
DCU have also launched a scheme whereby elite athletes can now qualify for courses for which they have insufficient points. This has inevitably led to accusations that they are attempting to emulate American universities who attract top athletes by waiving academic criteria. An interesting dilemma. It was also notable the large number of DCU players who are studying Sports Science.
Despite having the four named inter-county men ruled out, DCU managed to field a starting 15 that included 13 current senior inter-county players. Queens similarly had an entire team with inter-county experience at minor, under 21 and senior. In fairness the match itself was no great advertisement and the poor weather conditions probably contributed to a physically tight game.
DCU just about deserved their victory having survived a Kevin McGourty penalty half way through the second half. Mayo's Conor Mortimer came into his own after that and it was his points that separated the two teams at the end. The game almost made it into the headlines for a different reason just before half time, when Queens manager James McCartan became unromantically involved with DCU centre-half forward Brendan Egan who proved throughout the evening that Sligo has not completely surrendered to fancy Dan football!
McCartan, who is a good five inches shorter than Egan, pushed him onto the hoardings and we almost had another Omagh on our hands. Referee Mick Monahan intervened quickly and banished the sideline officials to the stand. For a while, McCartan stood on the wall like a bold child before doing as he was told. Other than that it was a tough, honest game.
An Phoblacht Magazine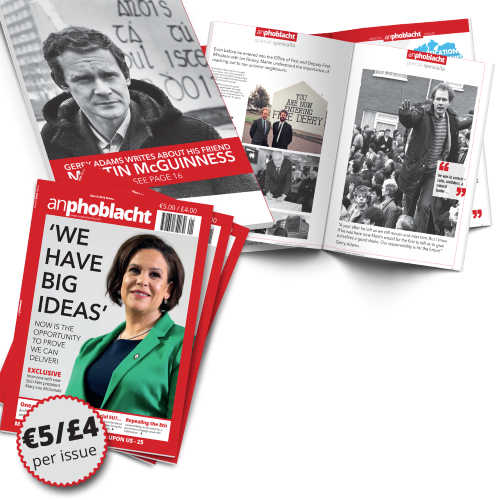 AN PHOBLACHT MAGAZINE:
The first edition of this new magazine will feature a 10 page special on the life and legacy of our leader Martin McGuinness to mark the first anniversary of his untimely passing.
It will include a personal reminiscence by Gerry Adams and contributions from the McGuinness family.
There will also be an exclusive interview with our new Uachtarán Mary Lou McDonald.
test