26 January 2006 Edition
Irish soldiers to be used as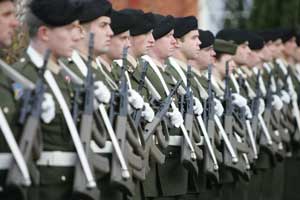 Irish soldiers will be used as "shock troops" in a developing EU Army if the 26 Counties joins EU battle groups in the time ahead, according to a new publication by Roger Cole, Chairperson of the Peace and Neutrality Alliance.
The 26-County Defence Minister Willie O'Dea said last month that the government was "positively disposed towards" the participation of 26-County troops in the controversial battle groups.
Legislation allowing 26-County troops to join the battle groups is expected to be brought before Leinster House in the near future. If the 26-County state joins the battle groups it would mark a further significant dilution of the state's neutrality.
In EU Battle Groups: Regiment of the Empire Roger Cole says that: "When the Peace and Neutrality Alliance was founded ten years ago to oppose the process by which the elite sought to destroy Irish independence, Irish democracy and Irish neutrality and integrate this state into a neo-liberal, centralised, militarised superstate, few people believed us.
"Now with Irish neutrality totally destroyed, with Ireland transformed into a US aircraft carrier and the Irish Army about to integrated into the battle groups of the EU, there are few who do not believe us."