26 January 2006 Edition
The Fifth Column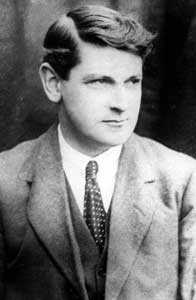 FG show banned IRA film
Fine Gael in Sligo last Saturday celebrated the life and times of Ireland's premier 'terrorist', Michael Collins.
Fine Gael announced ahead of their Blueshirt bash: "Tonight's event includes the screening of a rare documentary about Collins which was banned under Ted Heath's government in the 1970s."
And which probably never made it onto RTÉ either when Fine Gael/Labour Coalitions enforced the Section 31 broadcasting censorship.
Tell the whole story
One of Collins' fans, Fine Gael TD John Perry, denied that his party is looking to past glories to boost low morale.
"Fine Gael has a great history and a great future, and I think we've a wonderful future under the current leader, Enda Kenny, who I believe will be the next Taoiseach," John brown-nosed before adding: "The institutions of the state were founded by Fine Gael and the ambition and determination of Michael Collins, and I think it is very important to tell that story to a whole new generation of people."
So no doubt there was lots of explaining about how Collins's Squad shot British spies, collaborators and unionist leaders in their homes, in their beds, in front of their wives and children, in church, on the beach, in the park, playing cricket or in fact anywhere they could shoot a Brit or a cop.
Blueshirt's green light for red light club
Wonder if Dublin Fine Gael will be celebrating the stand taken by Councillor Bill Tormey in defence of Peter Stringfelllow's lap-dancing club being licensed in Dublin's North Inner City against almost universal protests from residents and other political representatives.
Bill was on RTÉ TV's The Big Bite discussion show on Tuesday, sticking up for Stringy and the dirty mac brigade and insisting that the lap-dance lechers should have their way with "this social activity".
Bill's fundraising socials must be interesting.
Sick mercenary Metcalfe
PSNI peeler Charles Metcalfe told his bosses he was sick from stress and depression and he was going to have a nice, leisurely lie-down in his favourite sun-spot in Spain -- then promptly packed his sun hat and his gun and headed off to Iraq to pick up five weeks' work at £265 (€386) a day as a private bodyguard while claiming his sick pay of £5,285 (€7,687).
Detective Constable Metcalfe, from Newtownards PSNI Barracks, admitted at Downpatrick Court to two charges of false accounting of sickness certificates. He has been given a suspended 12-month sentence and now works with the care unit dealing with sex offenders at Newtownards PSNI base.
But what about the private security contractors who paid cheating Charles his wages and gave him a gun, the Control Risk Group? Don't these people carry out security checks?
Child porn soldier
Another member of the crown forces who has managed to avoid jail is soldier Malcolm Slowey, who has admitted downloading more than 150 indecent photos of children.
Slowey, from Glebe Close, Aldergrove, pleaded guilty to 26 charges of making indecent photographs.
Belfast Crown Court heard that the images were found when police, tipped off by the Paedophile Investigation Team in London, searched Slowey's home in 2004.
The judge also ordered his name go on the sex offenders' register for the next seven years.
At a previous hearing, the prosecution told the court that the images Slowey had on his computer ranged from the least serious category to the most serious.
His defence lawyer said that Slowey was "a man of considerably good character" with no criminal record and had "served the community as an active member of the security forces".
Judge Desmond Marrinan said that, although a long sentence was not required: "The message must go out that anyone tempted to indulge" in downloading indecent photographs "runs a very serious risk of being caught and they will, in many cases, go to prison".
Soldier Slowey was spared prison
Most wanted
Forget about Oprah Winfrey or Richard and Judy plugging your book, if you want to get a best seller then get Osama Bin Laden to give you a mention.
A book by an obscure American historian has rocketed into the US best-seller lists after the al-Qa'ida leader endorsed it in an audio message broadcast around the world last week.
Rogue State: A Guide to the World's Only Super-power, by William Blum, was down below the 200,000 mark among Amazon's top-selling titles but shot right up to 21 this week after Bin Laden's promo. Now Amazon is struggling to meet demand.
Bin Laden said from his secret reading place:
"If Bush decides to carry on with his lies and oppression, it would be useful for you to read the book Rogue State."
It's not known if the Bin Laden Book Club has read any Cecelia Ahern. He doesn't get out much.
Storm over Ibrox
BBC Scotland 'weather girl' Kirsty McCabe has caused a storm amongst Glasgow Rangers fans after calling their hallowed Ibrox Stadium as "Castle Greyskull".
Kirsty told fans heading to the ground to "wrap up warm if you're heading for Castle Greyskull". The phrase is commonly used by Celtic fans as a derogatory term for Ibrox. The BBC said: "Kirsty is a Kilmarnock fan and she was making a joke after Rangers signed their best player, Kris Boyd. She apologises for her comment."
No need, Kirsty. We forgive you.
Holding Bertie to account
Vincent Browne's RTÉ Radio 1 show last week questioned if (and how) Dáil politicians are accountable.
They are, insisted one phone-in listener:
"Bertie Ahern is accountable to Mary Harney."
An Phoblacht Magazine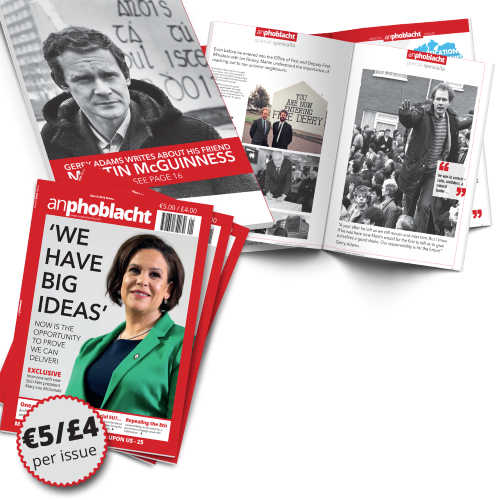 AN PHOBLACHT MAGAZINE:
The first edition of this new magazine will feature a 10 page special on the life and legacy of our leader Martin McGuinness to mark the first anniversary of his untimely passing.
It will include a personal reminiscence by Gerry Adams and contributions from the McGuinness family.
There will also be an exclusive interview with our new Uachtarán Mary Lou McDonald.
test