12 January 2006 Edition
Dúirt Siad...
They listened to my moaning and my groaning... they were there for me and they worked like blacks.
Fianna Fáil Senator Mary O'Rourke putting her foot in it when accepting her election nomination in Mullingar on Sunday 8 December.
It's difficult not to fall about laughing when you hear people declare themselves champions of Irish nationalism, even as they pack their bags to hurry to Buck Palace.
Collins lambastes the SDLP's Tom Kelly for accepting a New Year's Honour from the British Queen. Daily Ireland, Monday 9 January.
To this day, I still feel guilty because I got out and they didn't.
Dublin woman Antionette Keegan, speaking about her two sisters who perished in the Stardust disaster in 1981. Victims of the fire are up in arms after RTÉ announced plans to broadcast a Stardust film, without consultation with the families, to coincide with its 25 anniversary next month. The Irish Times, Saturday 7 January.
What Michael McDowell did had the support of the cabinet throughout.
Taoiseach Bertie Ahern gives McDowell his full support for the New Year after the Frank Connolly controversy. Ireland Online, Sunday 8 January.
We might be more inclined to listen to you now if you had expressed concern in the past when RUC stations were little more than loyalist drinking clubs, both in ethos and in decor.
DUP member Arlene Foster is criticised for her reaction to a new PSNI recruit wearing an IRA Tan War medal to his ceremony. Daily Ireland, Tuesday 10 January.
An Phoblacht Magazine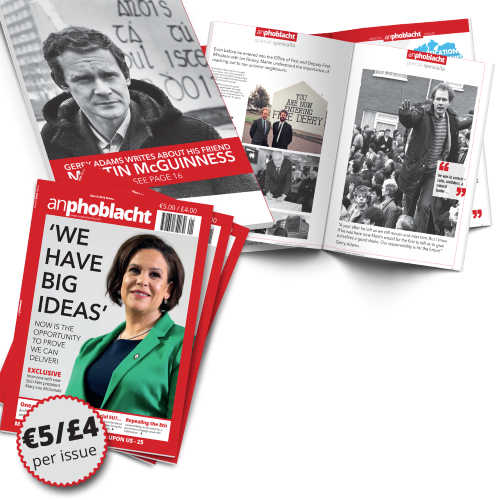 AN PHOBLACHT MAGAZINE:
The first edition of this new magazine will feature a 10 page special on the life and legacy of our leader Martin McGuinness to mark the first anniversary of his untimely passing.
It will include a personal reminiscence by Gerry Adams and contributions from the McGuinness family.
There will also be an exclusive interview with our new Uachtarán Mary Lou McDonald.
test