12 January 2006 Edition
Fifth Column
There IS a spy ring at the heart of government
Supposed spy hunter Suzanne Breen of the Sunday Tribune — who staked her huge reputation on RTÉ Radio's 5-7 Live drive-time news show this week on stories that political parties monitor political opponents' activities equals spy rings — has missed this startling revelation by investigative journalist Katie Hannon.
"There is one such person who is a familiar face around Leinster House. He eats in the self-service restaurant most days and can often be seen enjoying a sociable drink with his colleagues in the Visitors' Bar. And yet most people are vague about what it is he actually does. In fact, he works in the Taoiseach's Department in Government Buildings where his post is officially described as that of 'researcher'. But that doesn't come close to describing the highly unusual role this young man plays in the Fianna Fáil political machine. His job involves keeping files on political rivals and media figures, for use when in election mode or in times of crisis. He reports directly to one of the Taoiseach's aides."
-- From 'The Naked Politician', by Katie Hannon (published 2004).
Moles in Montrose
The gutter press spy hunt/witch-hunt against republicans has been joined by the loony Lord Laird, the Ulster Unionist peer of the British realm.
Laird can't stand anything Irish but a recent outburst in the House of Lords, under the legal safety blanket of parliamentary privilege, has struck even 5-7 Live dumb, maybe because the loopy lord has accused two unnamed "very senior officials" at RTÉ of being IRA moles!
The not-so-good lord lamented:
"That much of the media is now infiltrated and influenced by Sinn Féin/IRA can be seen in the highly negative reaction in sections of the southern media, in particular the state broadcaster RTÉ, against the Minister for Justice, Michael McDowell, when he outed and denounced Frank Connolly," Lord Laird said during a debate on the new terrorism law for the Six Counties before Christmas.
"It is not a coincidence that, instead of being lauded for his actions, the Minister for Justice of the Irish Republic found himself the subject of a campaign of vilification in the Irish media. The worst example of biased coverage has been that of RTÉ.
"In view of the past two weeks, perhaps it is time that two very senior RTÉ officials explained their extreme republican backgrounds," he added, without explaining exactly what he thinks he knows.
The lard-like Laird vowed to name his suspects "at the earliest opportunity". Several weeks later, he hasn't done so.
RTÉ said in response: "We cannot think who he could be referring to."
Lord Laird, a former advisor to David Trimble, sits on the Loyalist Commission alongside leaders of the UVF and UDA.
Booze in the body politic
The downfall of British Liberal Democrats leader Charles Kennedy over his battle with alcoholism has caused some reflection on the role of booze in the body politic.
Donogh O'Malley, the Fianna Fáil Minister who brought in free education, is said to have died prematurely because of drink. And Taoiseach Bertie Ahern happily opens pubs while Health Minister Mary Harney infamously used government aircraft and taxpayers' money to fly across the country to open an off-licence.
And who can forget the drunken rule of Russian President Boris Yeltsin, who was so full of vodka when his plane touched down in Ireland in 1994 he couldn't even manage to get off the plane?
One of Charles Kennedy's predecessors as a Liberal MP, Herbert Asquith, Prime Minister from 1908 to 1916, was nicknamed 'Squiffy', polite language in his day for 'bladdered'.
Winston Churchill, Britain's leader in the Second World War and voted the greatest-ever Briton in a 2002 BBC poll, spent most of his time well-oiled with liberal doses of brandy. He declared: "I have taken more out of alcohol than alcohol has taken out of me."
Wobbling through the House of Commons, Churchill once encountered MP Bessie Braddock, who accused him of being drunk. He famously retorted: "Yes, madam, I am drunk, but in the morning I will be sober and you will still be ugly."
When the chief Mormon in a group invited to Churchill's seat of Chartwell observed: "Mr Churchill, the reason I do not drink is that alcohol combines the kick of the antelope with the bite of the viper," Churchill is said to have replied: "All my life, I have been searching for a drink like that."
And then there was Foreign Secretary George 'Blotto' Brown in Harold Wilson's Labour Government in the 1960s.
Purple haze
George Brown was said to be a brilliant politician -- until four in the afternoon, when he usually fell over. "Many British statesmen have either drunk too much or womanised too much," Brown once said. "I never fell into the second category."
Brown's most famous escapade was an undiplomatic episode in Peru while he was in charge of Britain's foreign relations.
At a grand reception in Peru, the Labour Foreign Secretary tottered up to a figure resplendent in a fetching purple gown and slurringly asked for a dance. A dishevelled Brown was turned down with the response: "First, you are drunk. Second, this is not a waltz, it is the Peruvian national anthem. And third, I am not a woman, I am the Cardinal Archbishop of Lima."
Ming the nameless
Liberal Democrat backers of Charles Kennedy's would-be successor are having trouble coming up with a trendy name for themselves.
In Britain's political mix, there's the Blairites, the Brownites and the Cameroons, disciples of new Tory leader David Cameron. Now the Lib Dem followers of Sir Menzies Campbell have to follow suit. The trouble is that the would-be Lib Dem leader's first name has the Scottish pronunciation 'Mingis' but is often shortened by the media to 'Ming'.
So what should we call the camp followers of a man called Ming?
An Phoblacht Magazine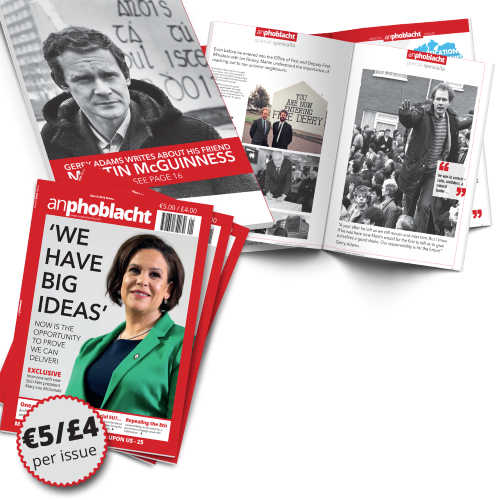 AN PHOBLACHT MAGAZINE:
The first edition of this new magazine will feature a 10 page special on the life and legacy of our leader Martin McGuinness to mark the first anniversary of his untimely passing.
It will include a personal reminiscence by Gerry Adams and contributions from the McGuinness family.
There will also be an exclusive interview with our new Uachtarán Mary Lou McDonald.
test