5 January 2006 Edition
Dúirt Siad...
McDowell's our hero - Orange Order marchers.
Christmas Day edition front-page headline of the Sunday Tribune on the adoration felt by the unionist political and paramilitary 'Love Ulster' coalition for Justice Minister Michael McDowell and their invitation to the PD president to address their proposed rally in Dublin on 4 February.
There is no 'rampant crime' in nationalist or republican communities. On the contrary the nationalist and republican people are good, decent people who, despite not having had a proper police service, have remained law abiding.
Gerry Adams hits back at recent accusations. UTV, Saturday 31 December.
He was unshakable in his determination to see freedom and justice delivered for the people of Ireland.
Martin McGuinness pays tribute to former Hunger Striker Matt Devlin, who died last week.
They're coming here with the expectation of getting a job. They have sufficient money for a few weeks and when that money is gone they come to us for food. They may not have the skills required, and not having the language is a huge problem.
Director of the Capuchin Day Centre in Dublin Br Kevin Crowley, revealing that 40% of homeless people coming to it for help are non-nationals, many from Poland. The Irish Independent, Saturday 31 December.
An Phoblacht Magazine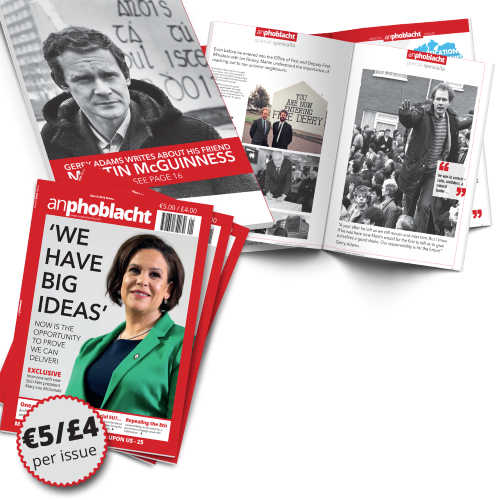 AN PHOBLACHT MAGAZINE:
The first edition of this new magazine will feature a 10 page special on the life and legacy of our leader Martin McGuinness to mark the first anniversary of his untimely passing.
It will include a personal reminiscence by Gerry Adams and contributions from the McGuinness family.
There will also be an exclusive interview with our new Uachtarán Mary Lou McDonald.
test