5 January 2006 Edition
Monaghan campaigners mourn hospital closures
BY JOANNE CORCORAN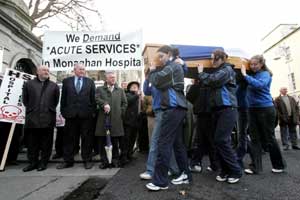 Hospital campaigners from Monaghan staged a mock funeral outside the Dáil on New Year's Eve to highlight a further reduction of services at the besieged hospital.
Sinn Féin TD for the area, Caoimhghín Ó Caoláin, joined Monaghan councillors, members of the Monaghan Community Alliance and the Monaghan Ladies' GAA team as a hearse was driven to the gates of Leinster House. The funeral symbolised the closure of elective surgery at the hospital, with protestors saying it was a "black day" for the county. Elective surgery and surgical staff have now been transferred to Cavan.
Ó Caoláin said the continual downgrading of the hospital is a result of the failure of 26-County Health Minister Mary Harney to come to grips with her portfolio.
"More than a year after the launch of her highly-publicised ten-point plan, Health Minister Mary Harney has completely failed to get to grips with the crisis in the health service," he said. "The Minister is overseeing the closure of Accident and Emergency Units across the state. From this week on, 26 acute beds in Monaghan General Hospital are no longer available for inpatient surgical needs."
Monaghan Community Alliance Chairman Peadar McMahon said the government had to accept its responsibility and the consequences of its inaction.
"We are not looking for a major centre in Monaghan, just the basic needs for the people," he said.
On a separate but related issue this week, Ó Caoláin hit out at proposals by the Health Service Executive to deal with the Accident and Emergency Departments crisis as a "woefully inadequate response".
The HSE announced on Monday its plans to prevent people from regions outside Dublin accessing the capital's hospitals, in a desperate bid to prevent overcrowding and lack of beds.
"The announcement is just another example of a failure to take the type of bold initiatives which must be part of the solution to the crisis in our Accident and Emergency Departments, including the provision of primary care centres and the need for thousands of additional acute beds," he said, adding that Sinn Féin is committed to fighting the cutbacks and bring about real change in our health services.