13 October 2005 Edition
ARA raids - securocrat hoax
ARA raids - securocrat hoax
The political timing, orchestrated media briefings and subsequent changing of the story around the recent, high-profile actions of the British Assets Recovery Agency (ARA) have led most reasonable commentators to conclude that a political agenda is at work.
Several days of widespread media manipulation about a non-existent 'IRA property empire' has resulted in a number of people being unjustly vilified, their characters assasinated and their families traumatised.
Claims about the scale and scope of the investigation have subsequently shown to be untrue. Thomas Murphy as well as the Manchester business people targeted by the ARA have been the victims of a clear political manoeuvre.
This was the latest, massive publicity stunt by British securocrats. It was greeted enthusiastically by their supporters in the Irish political and media establishment who, like battery hens, devoured every piece of lying propaganda they were were fed and who have now been forced to swallow most of the outlandish claims they initially made about this dubious operation.
British securocrats opposed to the Irish Peace Process from its inception, and intent on undermining it at every opportunity, staged another headline grabbing event. They found willing fools in the Irish and British media and loyal allies within the Irish political establishment who have parroted their line and trumpeted their actions without the slightest hesitation.
The manipulation of events for media consumption was clear from the very beginning with the over-the-top numbers of police used to carry out the raids in Manchester. The fact that they were staged when Gerry Adams and Martin McGuinness were in Downing Street reinforces the view that the raids were politically motivated. The Assistant Director of the ARA is a former senior RUC Special Branch officer with a history of political controversy. The ARA's actions have perfectly suited rejectionist unionists and provided them with further spurious reasons for refusing to engage in the political process.
The Dublin Government has serious questions to answer in relation to its complicity in this latest farce. Michael McDowell in particular has been unrelenting in his attempts to stoke up fears about a 'republican criminal empire'. His words and his actions have been manna from heaven for rejectionist unionists and those elements within the British system who are intent on wrecking the Peace Process.
As the basis behind this politically inspired hoax unravels the question must be asked as to whether the British and Irish Governments will now sack the securocrats who abused their official positions in this latest effort to undermine the Peace Process?
An Phoblacht Magazine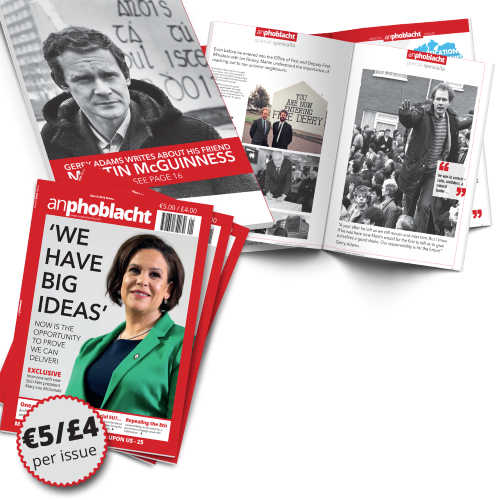 AN PHOBLACHT MAGAZINE:
The first edition of this new magazine will feature a 10 page special on the life and legacy of our leader Martin McGuinness to mark the first anniversary of his untimely passing.
It will include a personal reminiscence by Gerry Adams and contributions from the McGuinness family.
There will also be an exclusive interview with our new Uachtarán Mary Lou McDonald.
test