6 October 2005 Edition
Pearse Doherty for Donegal Southwest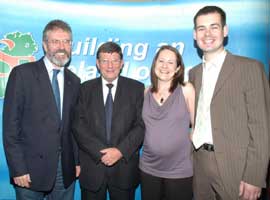 Donegal County Councillor and former EU candidate Pearse Doherty has been selected as the Sinn Féin candidate to contest the next 26-County General Election for Donegal Southwest.
Doherty won the nomination at a selection convention in Ostán na Rossan, Dungloe, on Sunday 2 October which attracted hundreds of party members and activists from across the constituency.
The convention was chaired by Sinn Féin Vice President Pat Doherty and the Guest Speaker was Party President Gerry Adams.
Speaking to An Phoblacht after his selection Pearse Doherty said it was time for a change in Donegal politics. The county had many critical issues which needed to be tackled including the need for a rail system in the county, job losses and the fact that over 3,000 people in Donegal were currently living on social welfare. He also said that poverty remains a problem in the region.