16 June 2005 Edition
Remembering the Past: IRA Volunteers execute Wilson
BY SHANE Mac THOMÁIS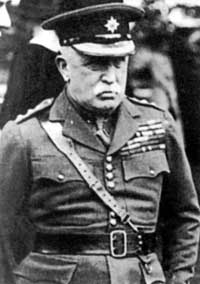 On the morning of 22 June 1922, Sir Henry Wilson was returning to his home in Easton Place in London, having just unveiled a war memorial at the city's Liverpool Rail Station.
He had paid his taxi driver, and was feeling for his keys, when two IRA men came up behind him, pulled out revolvers and shot him. With an arm wounded by the first two bullets, he half drew his sword. The two IRA men fired a total of nine bullets at Wilson before attempting their escape, but they were surrounded by an angry crowd and arrested by police.
Wilson's body was taken and laid on a couch in his study. Bernard Spilsbury, the pathologist, arrived at the scene and carried out an examination. Wilson was shot in the left forearm, twice in the right arm, twice in the left shoulder, in both armpits, and twice in the right leg. Both armpit wounds had fatally pierced Wilson's lungs.
A servant of imperialism, Wilson had served as a British soldier from the early 1880s. He rose to the command of the Staff College at Camberley, Surrey. He played a leading part in the Curragh Mutiny of 1914, surreptitiously encouraging some British Army officers who refused to lead troops against Ulster opponents of Irish Home Rule.
During the Tan War, he set up the undercover Cairo Gang, which was wiped out by the IRA's Squad in 1920. He even threatened to resign if Kevin Barry was not hanged.
As MP for Down after 1921, he was Sir James Craig's parliament's military advisor, with £2 million at his disposal to carry out whatever measures were necessary "regardless of consequences'". He was directly responsible for setting up the B Specials and for the anti-nationalist pogroms of 1921-'22.
The captured IRA men were identified as Reginald Dunne (also known as John O'Brien) and Joseph O'Sullivan (also known as James Connelly). Both men were members of the IRA and aged 24 years' old. O'Sullivan had lost a leg at Ypres in the First World War (where Wilson, as assistant chief of the general staff, had sent many a young man to his death in the finest tradition of lions led by donkeys) and this had hampered his escape from the scene. Instead of making his own escape, Dunne stayed to try and aid his comrade.
The killing shocked the British public. A newspaper had the headline "Hang the butchers of Wilson". The London Times newspaper, a mouthpiece of the British imperialism, wrote:
"Field-Marshall Sir Henry Wilson, the famous and gallant soldier, was murdered yesterday upon the threshold of his London home. The murderers were Irishmen."
In Belfast, Sir James Craig adjourned the Northern Parliament, having declared "Sir Henry Wilson laid down his life for Ulster"... Lady Wilson let it be known that no one who had negotiated the Treaty would be welcome at her husband's funeral. All the British Ministers were assigned armed bodyguards and the public gallery in the House of Commons was closed.
It is still not certain who gave the order for the assassination of Wilson. Reginald Dunne had been a friend of Collins in the London IRB organisation and there is other evidence to link Collins and Rory O'Connor with the deed. Dunne had met both of them when in Dublin earlier in the month.
Dunne and O'Sullivan were tried at the Old Bailey on 18 July and sentenced to be hanged in Wandsworth Prison on 16 August. Collins, who said to General Joseph Sweeney that "it was two of ours that did it'", attempted a rescue attempt. Joe Dolan and Tom Cullen were sent to London by Collins. At the same time the IRA sent several Cork Volunteers over, including Frank Cremins, Billy Aherne and Dinny Kelleher.
In the end, no escape effort was attempted, and pleas for reprieves were turned down. Dunne and O'Sullivan were hanged together on 10 August 1922, in a double execution at London's Wandsworth Prison. They were both buried within the prison grounds. In July 1967, their remains were repatriated to Ireland. A Tricolour that Reginald Dunne had placed on the coffin of Terrence MacSwiney was placed by a relative on the coffin of O'Sullivan. They were re-buried in the republican plot at Deansgrange Cemetery. At their graveside a day after they were reinterred on 9 July 1967, three IRA men fired a volley to honour their sacrifice.
In a speech which Reginald Dunne prepared, but was not permitted to deliver from the dock, he said:
"We took our part in supporting the aspirations of our fellow-countrymen in the same way as we took our part in supporting the nations of the world who fought for the rights of small nationalities... The same principles for which we shed our blood on the battlefield of Europe led us to commit the act we are charged with.
"You can condemn us to death today, but you cannot deprive us of the belief that what we have done was necessary to preserve the lives and the happiness of our countrymen in Ireland. You may, by your verdict, find us guilty, but we will go to the scaffold justified by the verdict of our own consciences."
On 22 June 1922, 83 years ago, IRA Volunteers Reginald Dunne and Joseph O'Sullivan executed Sir Henry Wilson in London.
An Phoblacht Magazine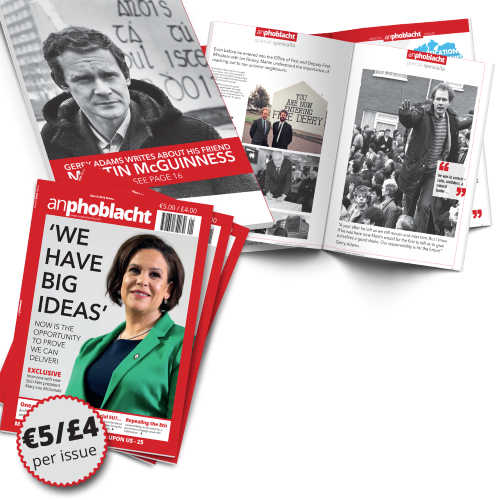 AN PHOBLACHT MAGAZINE:
The first edition of this new magazine will feature a 10 page special on the life and legacy of our leader Martin McGuinness to mark the first anniversary of his untimely passing.
It will include a personal reminiscence by Gerry Adams and contributions from the McGuinness family.
There will also be an exclusive interview with our new Uachtarán Mary Lou McDonald.
test