16 June 2005 Edition
The real alternative
The media's coverage of the Irish Times/MRBI opinion poll published at the weekend unsurprisingly focused on the substantial drop in Fianna Fáil support and corresponding increases for Fine Gael and Labour. Tucked away in the coverage was the fact that Sinn Féin's vote was up two to 11%.
The cliché is that opinion polls are merely snapshots in time. This poll was conducted in the midst of the nursing home scandal, the Morris Tribunal revelations and less than a week after the Labour Party's annual conference. In such a context, if the main opposition parties had not made any gains they might as well have shut up shop.
But the gains for Sinn Féin come in a very different context, that of an unceasing barrage of dishonest media coverage and desperate scaremongering from a political establishment thrashing about in despair for a way of stopping republican growth.
But another key finding of the poll is even more telling. A majority of voters want to see a different coalition in power after the next General Election, but there is no clear alternative emerging.
Are the Irish people to turn away from Ahern and Harney to find their only option to be a resurgent Fine Gael backed by the former friends of North Korea leading the Labour Party?
Or are they to find a real alternative at the next election?
— One that stands for re-distribution of wealth, for putting the needs of the people and the Irish working class in particular, ahead of brown envelopes and vested interests.
— An alternative that can stand up to Morris-like intimidation and harassment from the Gardaí because it has been doing it for decades.
— A community that can stand up to the naysayers and IBEC sponsored scribes in the media because it has stood up to the corporate media before.
It is up to Sinn Féin to provide the people with the only real, credible alternative at the next election by contesting every constituency possible and giving people an authentic choice at the polling stations.
To leave it to Fine Gael and Labour, is nothing less than a betrayal of the Irish people.
An Phoblacht Magazine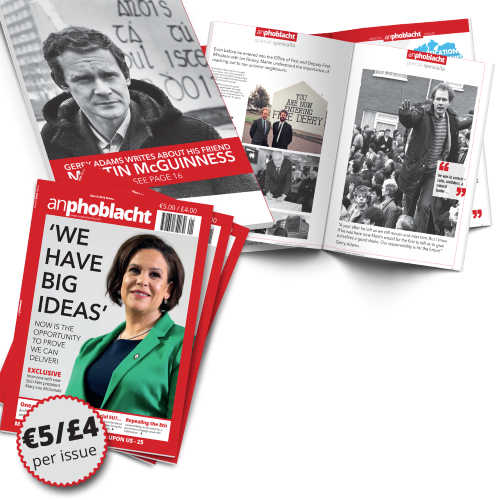 AN PHOBLACHT MAGAZINE:
The first edition of this new magazine will feature a 10 page special on the life and legacy of our leader Martin McGuinness to mark the first anniversary of his untimely passing.
It will include a personal reminiscence by Gerry Adams and contributions from the McGuinness family.
There will also be an exclusive interview with our new Uachtarán Mary Lou McDonald.
test