12 May 2005 Edition
Don't miss the point
Last week's Westminster and local elections were painted very much as battles between Sinn Féin and the SDLP on the one hand, and the DUP and the UUP on the other.
Media and political speculators created an arena where the only interest lay in whether the largest nationalist and unionist parties could finally trounce their junior rivals and push them off the political stage. This was reflected in the election coverage, which, on both BBC and UTV, continually resorted to commentaries from political pundits examining the swings in the separate nationalist and unionist camps.
However, looking at the elections in this context meant missing out on the important point that unionism as a whole is returning to Westminster in a weaker position than in 2001.
Throughout the 1990s, unionism was represented in its various forms in London by 14 ('92) or 13 ('97) MPs.
In 2001, that trend was bucked when Sinn Féin took four seats, meaning the unionist number was reduced to eleven. Now, Sinn Féin holds five seats and the SDLP three, leaving a reduced majority for unionism of ten.
A look at a the redrawn political map of the North shows great swathes of green from South Down, around the border to Foyle, encompassing Mid-Ulster, and West and South Belfast. The Orange corner has become significantly more squashed into the northeast.
The battle for nationalist votes was interesting. Sinn Féin managed to solidify its hold on four seats at Westminster and return a fifth MP, as well as take 126 council seats, despite months of poisonous and vindictive campaigning against the party.
But the SDLP also managed to keep three seats, even with a reduced percentage of the vote.
Nationalism as a whole is now in its strongest position ever and has the opportunity to work to put the Good Friday Agreement back on track and to further erode the artificial border that separates the North and South of Ireland.
That is the real point of last week's elections.
It would be a particular shame if the SDLP failed to recognise this and continued with the negative campaigning against fellow nationalists it engaged in during the run-up to the elections.
An Phoblacht Magazine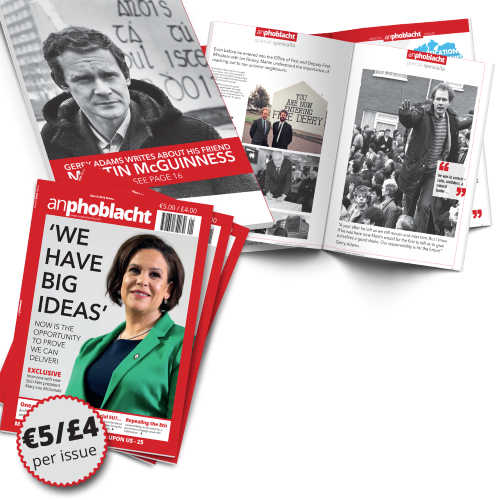 AN PHOBLACHT MAGAZINE:
The first edition of this new magazine will feature a 10 page special on the life and legacy of our leader Martin McGuinness to mark the first anniversary of his untimely passing.
It will include a personal reminiscence by Gerry Adams and contributions from the McGuinness family.
There will also be an exclusive interview with our new Uachtarán Mary Lou McDonald.
test