3 March 2005 Edition
Carson's cousin christened Sinn Féin - Fearghal O'Hanlon Memorial Lecture 2005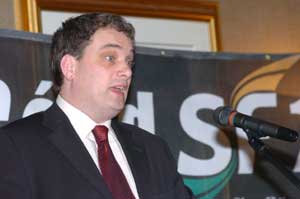 Almost one hundred people attended the 23rd Annual Feargal O'Hanlon Memorial Lecture in the Lakeside Hotel in Monaghan last Sunday afternoon. The event was organised by the Monaghan town cumann of Sinn Féin and was presided over by local chairperson Martin Lynn. The guest speaker was Dublin South Central Dáil Deputy Aengus Ó Snodaigh. The title of this year's talk was 'Céad Bliain Sinn Féin 1905-2005'. Also present on the platform were Councillor Pádraigín Uí Mhurchadha, sister of Fearghal O'Hanlon, and Cavan/Monaghan Deputy Caoimhghín Ó Caoláin. We carry here extracts from Aengus's lecture dealing with the early history of Sinn Féin.
I can speak authoritatively about Sinn Féin in the last 22 years, because as the song goes "I was there". Today, it is substantially different to the party I joined in 1983, though at the same time much remains - the same principles, same objectives, same focus, determination, enthusiasm and dedication. The major change is the scope of the work being undertaken and the relative freedom to do it. Our organisation today is more focused and more professional than at any stage in its past, but the new circumstances, bring with it new challenges. We are still dependent on the thousands of men and women, boys and girls throughout the land who share our vision and will go out day in day out to deliver leaflets, sell our newspapers, staff our offices, attend our functions, canvass or survey the electorate, create debate and discussions in workplaces, schools and colleges, the same old hard slog it ever was. There wasn't any easy way in the past and there isn't now. I salute you all, and congratulate you on your 100 birthday.
HISTORY OF THE TERM SINN FÉIN
I will begin by giving a short history of the term Sinn Féin before 1905.The phrase Sinn Féin was in general use in the 19th Century well before it became associated with today's political party. It had been the battle cry of the Wild Geese Irish fighting in the armies of Spain and France in the 17th and 18th Centuries. A Young Ireland poet, John O'Hagan wrote in the 1840s: "Our hope and strength/We find at last/Is in ourselves alone."
An Irish emigrant and newspaper owner in San Francisco, Tom Mooney, called on Irish MPs in Westminster to withdraw from the English parliament, saying "Shin Fane, Shin Fane" (Mooney's Express, 11 January 1862).
"Sinn Féin, Sinn Féin" was a phrase of pride and kinship commonly used in Munster in the early part of the 19th century.
The term Sinn Féin was used in relation to the self-sufficiency and the promotion of Irish-made goods by the organisers of the National Exhibition in 1881 in Dublin. Conradh na Gaeilge held their meetings under the banner, "Sinn Féin, Sinn Féin amháin" and the same words were used in the United Irishman advertisement for the Dublin Workmen's Industrial Association. The term was again used by Dúbhghlas de hÍde in his 'Shan Van Vocht' drama of 1897. It was, therefore, a common enough phrase by 1905.
NATIONALIST RE-AWAKENING
Any history of Sinn Féin from its founding must set that important event in Irish history in its proper context. Sinn Féin was founded in an era of re-awakening. Nationalist Ireland was once again a vibrant, forward-looking, self-confident mass movement. The component parts were the GAA, founded in 1884 and flourishing by the turn of the century, with a large degree of backing from the IRB; Conradh na Gaeilge, the Gaelic League set up by Eoin MacNéill (our friend Michael McDowell's grandfather!) in 1893 with nationwide Irish language classes, their Oireachtas festival renewing a national pride in our culture and language; the Literary Revival, with Irish authors in English being hailed as being on a par with their international counterparts; and the revival and radicalisation of trade unionism, especially after the arrival of Jim Larkin and James Connolly. The IRB had influence in virtually every organisation with a nationalist outlook, with the aim of moving the agenda towards Irish independence. The multitude of nationalist/republican/socialist newspapers at the time, coupled with a large volume of pamphlets, generated a wide-ranging debate as to the ideals and agenda of nationalist Ireland and encouraged people to be open to discussing and generating new ideas.
Many of the same names crop up time and again in these organisations, Pádraig Pearse, Eoin MacNéill, Arthur Griffith and others.
Into this came the words Sinn Féin. An Claidheamh Soluis, the Conradh na Gaeilge newspaper's, leader article of 27 April 1901 was titled "Sinn Féin, Sinn Féin" and later used the phrase "Sinn Féin agus ár gcairde" (ourselves and our friends) to exhort readers to support the paper's advertisers. The slogan was then selected by a group of nationalists and Conradh na Gaeilge members in Oldcastle, County Meath, as the title of their newspaper. They had gathered on St Patrick's Day 1902 to listen to Pádraig Mac Piarais in the Napier Arms and decided on producing a newspaper to promote "the movement that is at present being carried on by thinking men and women of Ireland to revive our ancient language, music and literature, our national sports and pastimes, our decaying industries, and the cause of Temperance". Its first issue was printed in June 1902 and it ran for 13 issues. The editorial of its second issue nailed its colours to the mast saying: "While Sinn Féin is in existence it will always champion the cause of the oppressed against the oppressor and will be the stern champion of the labouring class."
Cumann na nGaedheal, founded by Arthur Griffith and the old Fenian John O'Leary in 1900, was an educational and cultural body. Following publication of Griffith's The Resurrection Of Hungary in a series of articles, both men met in London and then in Dublin to set up a new organisation to pursue these aims in Ireland. Thomas Martin invited Irish MPs and members of his Society. The first organising meeting was held on 4 August 1904 in the Metropole Hotel, Dublin. They decided to publish The Resurrection of Hungary to stimulate further debate about Ireland's future and the first run sold out in 12 hours. 20,000 copies were sold in three short months. More meetings of this group were held over 25/26 February 1905.
The evolving Sinn Féin policy can be seen embodied in the poem by Douglas Hyde, Ag fanacht ar cabhair, the last verse which states:
"Is mithid fios do bheith
Ag gach aon amadán
Nach bhfuil gair-faire
Is fiú aon aire
Acht ceann, Sinn Féin amháin."
(It's time time for every fool to recognise that there is only one watchword, which is worth anything - we ourselves alone.)
When Griffith had to change the title of his newspaper, the United Irishman, he adopted Sinn Féin as his title. The weekly newspaper began publishing on 4 May 1906 and continued until 28 November 1914. Arthur Griffith was the editor and Sean T Ó Ceallaigh acted as manager, but it was always in financial difficulties. An attempt between 23 August 1909 and 21 January 1910 to publish it daily failed due to financial problems and to few subscriptions. The weekly Sinn Féin continued until it was suppressed in 1914 by an order served on Seán T Ó Ceallaigh by two Dublin Castle detectives under the Defence of the Realm Act regarding the "seditious" material being printed in it.
NAMING SINN FÉIN
Arthur Griffith credits Máire de Buitléir, who was in fact a cousin of Unionist leader Edward Carson, as the source for the title of the new organisation, saying in 1921: "She was the one who christened this movement, which has at last got Ireland out of the corner, in which her oppressor has hidden her away and made her people again valiant. It was she who suggested the name Sinn Féin to me one day at the end of 1904. Her name will be ever linked with its history."
At the meeting called for the Rotunda in Dublin on 28 November 1905, over 100 delegates included PH Pearse, Rev Father Harpur (Wexford) Mrs J Wyse Power, Patrick MacCartan, Peadar O Cearnaigh, Máire de Buitléir, William Cosgrave, Sean T Ó Ceallaigh, PF O'Meara, W O'Leary Curtis, Henry Dixon, Seamus Connolly, Michael O'Hanrahan and Oliver St John Gogarty.
The meeting heard how the future members of the organisation they were to set up had already been active on achieving the objectives and they claimed credit for getting Dublin Corporation to refuse to give a 'loyal address' to King Edward - the first king to be refused such a request since Henry II. The meeting endorsed Sinn Féin as the policy of the National Council and Martin outlined the need to set up branches to oppose the Irish Parliamentary Party and to "become the political arm of the Sinn Féin movement". The organising meeting went on from 11am to 6.30pm and then there was a public session at 8pm to make the formal public announcement. The Rotunda's Round Room was thronged. The meeting concluded with three cheers for the Sinn Féin policy and the singing of A Nation Once Again. By the second convention in 1906, many Irish societies in Britain had affiliated.
Arthur Griffith addressed them in 1907, saying: "Our demand is for national independence: if England wants peace with Ireland, she can have it when she takes her left hand from Ireland's throat and her right hand out of Ireland's pocket...England has as little title to govern Ireland as she has to govern Germany or as Germany has to govern England. This is the lesson and doctrine of Sinn Féin."
LANGUAGE & FREEDOM
PS O'Hegarty summed it up: "Sinn Féin was founded on two things - on the Irish language and all the tradition and national individuality which that brings with it, and on the will to be free. We knew that no foreign government can govern a nation unless the people themselves help that government or suffer it; and we knew that our problem was to get a majority of our people to declare that they would do neither. We knew that a clear majority, using constructively the powers Ireland could give it, would force England to give up her hold on Ireland." (The Victory of Sinn Féin by PS O'Hegarty)
The first time that Sinn Féin contested a parliamentary election was in the historic North Leitrim parliamentary by-election in 1908, where the sitting MP Charles Dolan resigned to get a mandate as a Sinn Féin candidate. Although he lost the seat, he polled 1,157 against the Parliamentary Party candidate's 3,103.
His address to the electors of North Leitrim stated:
"Two years ago you sent me to be your representative in the British House of Commons. You sent me to voice your demand for Self-Government, and you also gave me a mandate to strive for whatever remedial measures lay within our reach, and I went to the House of Commons determined to serve your interests and the interests of our country to the best of my ability. But I was not long there before I realised the truth of Michael Davitt's statement - that no Irish grievance, however genuine, would ever be remedied in that assembly unless the Government had to choose between reform and martial law in Ireland. The day of Parnell, Davitt and the Land League is over, and the voice of Ireland is drowned amidst contending English factions.
"I have come home to tell you the truth, and to abide by the consequences; I have come to tell you that the Irish Members are helpless in the House of Commons, where they are outnumbered six to one, and their speeches are unheeded; that the proper place for the representatives of Ireland to meet is Dublin, not London; that the true field of action is Ireland, not England; that it is only by our efforts that Ireland can be raised to a position of prosperity and started on the path of national development; and that in appealing to Englishmen we are wasting our energies and demoralising our people.
"I stand for Ireland, Free, Self-reliant and Prosperous. Sinn Féin means the end of empty talk and humbug, and the beginning of genuine National work; it means more wealth, more employment, and better wages for the people; it heralds the dawn of a new era rich with promise for our long suffering country, and as a believer in the policy of Sinn Féin, a believer in a self-reliant, self-supporting Ireland, I confidently solicit your support."
TURBULENT AND EXCITING TIME
This was a turbulent and exciting time in Ireland, with many groups and a vast array of newspapers and pamphlets appearing. I cannot do that period justice today, but a look at the history of the Labour Movement, Óglaigh na hÉireann and the Irish Parliamentary Party will show you the extent of the change occurring.
In 1913, the Irish Citizen Army was set up in response to attacks by the police and by British soldiers on locked-out workers. Óglaigh na hÉireann was set up by Eoin MacNéill at the bidding of the IRB and in response to the UVF being formed. The Redmonites split it to ensure that it didn't undermine their power base before they dragged thousands with them to war on the continent.
Sinn Féin in this era was relatively small, but ploughing away. It was to be the Easter Rising which was to propel Sinn Féin into the headlines, because it was wrongly referred to as the Sinn Féin Rebellion by the media - maybe because many of its founders were to the fore in the Rising, but so too were the leaders of the Labour Movement, Conradh na Gaeilge, Fianna Éireann, Cumann Lúthchleas Gael and other organisations.
PLANNING FOR THE REPUBLIC
The months after 1916 were trying times for republicans in Ireland, but in the University of Freedom in Frongoch Concentration Camp and in the English jails, the planning for the Republic picked up pace.
It was here that the seeds were sown for Sinn Féin's first successful election interventions. It was announced on January 22 1917 that Count Plunkett, father of executed 1916 leader Joseph Mary Plunkett, and an IRB member himself, would be the Sinn Féin candidate for North Roscommon. Derry's Seamus O'Doherty was Director of Elections and the famous Fr Michael O'Flanagan, Sean Milroy, Rory O'Connor, Larry Ginnell MP who (abstained himself from Westminster after the election), Michael Staines, Sceilig (JJ O'Kelly), Joe McGrath and of course Arthur Griffith, with many others, threw themselves into what was to become known as the Election of the Snows. They worked flat out until the close of polls on 3 February, with much of the campaign funds coming from O'Flanagan.
Despite the snow and that it was less than a year since the Rising, O'Flanagan reported that volunteers were posted at every polling booth to ensure that the sealed ballot boxes were not interfered with by the RIC men guarding them through the night.
Count Plunkett won the seat with 3,022 votes as against Devlin's 1,708 and Tully's 687.
Amid scenes of jubilation, Count Plunkett announced that Sinn Féin's policy regarding Westminster was one of abstentionism and said:
"My place henceforth will be beside you in your own country, for it is in Ireland, that the battle of Irish liberty will be fought."
An Phoblacht Magazine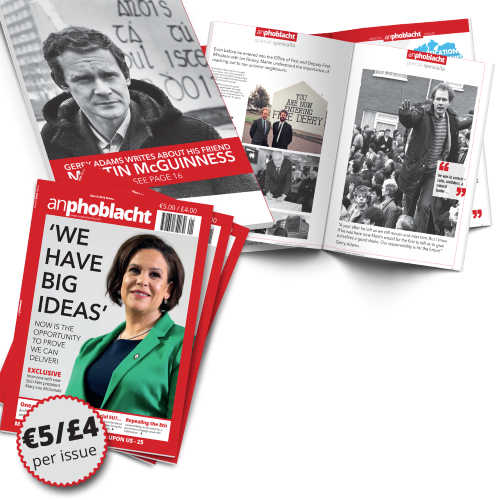 AN PHOBLACHT MAGAZINE:
The first edition of this new magazine will feature a 10 page special on the life and legacy of our leader Martin McGuinness to mark the first anniversary of his untimely passing.
It will include a personal reminiscence by Gerry Adams and contributions from the McGuinness family.
There will also be an exclusive interview with our new Uachtarán Mary Lou McDonald.
test